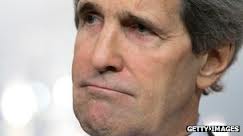 Secretary of State John Kerry said Friday that the United States is evaluating new options to halt Syria's civil war, but he refused to weigh into administration debates over whether to arm the rebels fighting President Bashar Assad's regime.
In his first news conference as secretary, Kerry said the Obama administration was looking at the crisis anew and hoping to find a diplomatic solution. But he sidestepped specifically addressing a question over providing military assistance to the anti-Assad opposition.
Defense Secretary Leon Panetta and Gen. Martin Dempsey, chairman of the Joint Chiefs of Staff, told Congress on Thursday that they had recommended offering military support to the rebels but were rebuffed by President Barack Obama.
"My sense right now is that everybody in the administration and people in other parts of the world are deeply distressed by the continued violence in Syria," Kerry told reporters alongside Canadian Foreign Minister John Baird. "There's too much killing. There's too much violence. And we obviously want to try to find a way forward."
"We are evaluating now," he said. "We're taking a look at what steps, if any, diplomatic particularly, might be able to be taken in an effort to try to reduce that violence and deal with that situation."
AP
This error message is only visible to WordPress admins
Error: No connected account.
Please go to the Instagram Feed settings page to connect an account.