Reopening al Madina bank file by Madi raised suspicions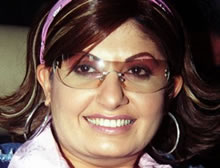 General Prosecutor Judge Hatem Madi's decision to reopen the fraud case of al-Madina Bank and the United Credit Bank raised questions over his intentions, days after he requested lifting the parliamentary immunity off MP Butros Harb .
Madi asked on Thursday an experts committee to reveal the names of persons who had received funds from al-Madina and its subsidiary the United Credit Bank.
The experts committee was formed following the discovery of billion dollar money laundering operation at the Al-Madina bank which collapsed in 2003.
The general prosecutor also asked the committee to probe the amount and the reasons of the payments made within a maximum period of three weeks.
Madi's decision raised questions whether he intended to targe
MP Harb had been at a certain stage the lawyer of a defendant in the bank scandal, Rana Koleilat ( pictured right) , who was accused of playing a key role in the fraud and for this reason Madi's decision raised suspicions about his intention.
Sources close to Harb denied that he was paid off. They said that Koleilat once asked Harb to represent her in court but when he studied the bank's case he discovered a bounced check of more than Euro 300 million and he informed the suspect that he could not defend her.
According to Fortune Magazine, Maher al Assad brother of the embattled Syrian president Bashar al Assad benefited the most from the billion dollar money laundering operation at the collapsed bank.
Al Madina was used to launder kickback money of Iraqi officials and their partners in the illegal gaming of the UN's oil-for-food programme. Sources put the amount transferred and laundered through al-Madina at more than $1 billion, with a 25 percent commission going to Syrian officials and their Lebanese allies.
According to observers , since MP Harb has never been an ally of the Syrian regime it was unlikely that he benefited from the money laundering operation either.
Al Madina bank records indicate that Maher's office manager, Khalid Qaddur, was transferred at no cost a Beirut apartment valued at $2.5 million, a transfer that investigators believe was intended to put it under Maher's control. The entire file on the Madina bank collapse is at the Lebanese Ministry of Justice, except for key parts that implicate Maher, which are still at the Lebanese Central Bank because people fear being killed over it. On 23 June 2011, the EU placed sanctions on Maher's office manager, Khalid Qaddur, for providing funding to the regime which allowed violence against demonstrators during the Syrian uprising. Similar sanctions were also placed on Ra'if al-Quwatli another business associate of Maher.
The head of Lebanon's al-Madina Bank sued in 2005 the former Syrian intelligence chief in Lebanon for alleged embezzlement.
Al-Madina president Adnan Abu Ayyash accuses General Rustom Ghazaleh and three brothers of spiriting away $72 million from the bank between 2000 and 2003, Abu Ayyash's lawyer Jean Azzi said on May 19, 2005
Ghazaleh headed the much-feared Syrian intelligence that left Lebanon in April 2005 as part of a troop withdrawal that ended Damascus's 29-year military and political grip on its smaller neighbor.
State Prosecutor Saeed Mirza referred in May 2007 11 Lebanese suspects purportedly involved in the Al Madina Bank scandal to Beirut Public Prosecutor Joseph Maamari.
Lebanese newspapers identified the suspects as, in addition to former executive secretary of Al Madina scandal heroine Rana Koleilat , her two brothers — Taha and Basel Koleilat Adnan Abou Ayyash, the bank president, and his brother Ibrahim and his son Wissam, bank employees Youssef al Hashi, Kazem Bahlawan, Fouad Qahwaji and Rene Kaado Moawwad.
Immunity
Madi sent a memo to Justice Minister Shakib Qortbawi on Monday requesting that the Batroun MP's immunity be lifted, so that he can be tried for offending President Michel Suleiman and the judiciary.
But Harb challenged him, saying he would file a lawsuit against the general prosecutor for trying to strike a deal with Hezbollah over a party member accused of involvement in an assassination attempt against him last year.
During a press conference on Thursday Harb said: "I will file a lawsuit against Madi and I will make his case an example to introduce reform in Lebanon".
"I will request that parliament strip me of my immunity in order to allow me to confront Madi," he said
"I call on Madi to confront me personally and not hide behind the judiciary," he continued.
"My position is directed strictly against the general prosecutor and his actions, contrary to what he is trying to imply through hiding behind President Michel Suleiman," Harb declared.
"Madi's history bears witness to his actions, while my own demonstrates that I have never remained silent over any wrongdoings," the MP stressed.
Harb escaped an assassination attempt after residents of a building in which his office is located ( Sami el-Solh Boulevard in the Beirut district of Badaro ) discovered individuals trying to booby-trap the elevator.
Al Hayat newspaper reported that Lebanese military court Judge Saqr Saqr who charged Mahmoud Hayek, the Hezbollah member with Harb's attempted assassination has now in his possession the photos taken by the security cameras when he was at the scene of the incident.
Harb last Friday praised Judge Saqr and president Suleiman for resisting the pressure imposed on them by Hezbollah to forgo the case and blasted Hezbollah for refusing to hand over Hayek to the court .
March 14 held PM Nagib Mikati responsible for the wave of assassinations in Lebanon starting with the attempted assassination of Lebanese Forces leader Samir Geagea last April, the attempted assassination of MP Harb and the assassination of Lebanon Internal Security intelligence chief Wissam al Hassan who was killed last October .
The current cabinet is dominated by Hezbollah militant group, which so far has also refused to hand over to the Special Tribunal for Lebanon (STL) the four Hezbollah operatives that were indicted in the 2005 assassination of former Pm Rafik Hariri.