Clash at al Manar TV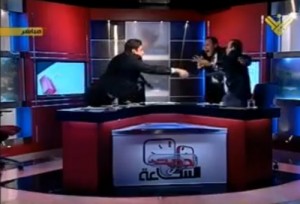 A clash erupted at Hezbollah's al Manar TV during a live debate beween Al Jamhouriya newspaper Journalist Assad Bshara and March 8 media official Salem Zahran.
According to a video clip, Bshara embarrassed Zahran several times during Al Manar's talk show " Hadith al Saaeh"( with Emad Mermel). This prompted Zahran to hurl a glass of water at Bshara and Mermel.
Watch the video clip