Islamic Council plans to fire the Grand Mufti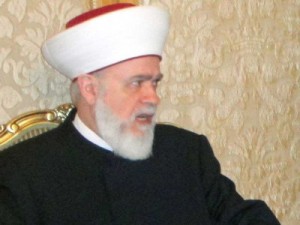 Lebanon's Higher Islamic Council plans to fire the country's Grand Mufti Sheikh Mohammed Rashid Qabbani and elect a new leader during its meeting next Saturday, Turkish Anatolia news agency quoted sources as saying Saturday.
Prime Minister Najib Mikati and Future bloc leader MP Fouad Siniora formed an undeclared alliance against Lebanon's Grand Mufti and approved the move, the sources added.
In November 2012, Qabbani called for a new election for the council, but clerics in the body allied with the Future Movement opposed the move, after which the Grand Mufti reversed his decision and called for a new election in late February. The mostly Sunni Future Movement and Qabbani are in disagreement over the management of the Dar al-Fatwa religious body.
Former Lebanese PM and Future Movement leader MP Saad Hariri blasted in late January Qabbani's fatwa against civil marriage, which was considered a declaration of war by activists.
Qabbani in his fatwa against civil marriage branded as an apostate any Muslim politician who approves its legislation.
"Any Muslim with legal or executive authority in Lebanon who supports the legalisation of civil marriage is an apostate and outside the religion of Islam," he said on the website of Dar al-Fatwa, the official institution for fatwas.
He also branded Civil marriage as a bacteria.
"There are predators lurking among us, trying to sow the bacteria of civil marriage in Lebanon, but they should know that the religious scholars will not hesitate to do their duty" and prevent the passage of such a bill. "
He issued a warning to Muslim officials who support the Civil marriage issue that they would not be eligible to be buried in a Muslim cemetery
" Such officials would not be washed, would not be wrapped in a burial shroud, would not have prayers for their soul in line with Islamic rules, and would not be buried in a Muslim cemetery," Qabbani warned
His fatwa came days after Lebanese President Michel Suleiman's announcement in Arabic and English on his Facebook page that Lebanon should work on drafting a civil marriage law to help build unity in the multi-faith country. Suleiman's announcement helped the issue gain momentum . 95 % of the respondents reportedly backed the president's position .
Lebanese authorities recognize civil weddings only if they have been registered abroad, and thousands of mixed-faith couples have traveled to nearby Cyprus or Turkey to marry.
Approximately 700 couples from Lebanon head to Cyprus only for civil marriages every year, the island nation's ambassador to Beirut, Homer Mavrommatis, said on Monday.