Iran: Syria's Assad regime ready to deal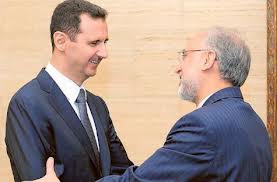 Syria's government is ready to sit down with the opposition to bring a two-year uprising against the regime to an end, Iran's foreign minister believes.
Ali Akbar Salehi told the Egyptian state news agency MENA: "I think that the Syrian government is ready to negotiate with the opposition."
Opposition leader Moaz Alkhatib has offered to talk to Syria's rulers about trying to end the conflict – subject to conditions including the release of 160,000 detainees.
But President Bashar al Assad has not yet commented on the offer and a key opposing faction flatly rejected the initiative.
The Syrian National Council, the main component of the opposition, has dismissed the possibility of any negotiations.
It said it was committed to ousting the Assad regime, rejecting dialogue with it, and protecting the revolution.
But Mr Alkhatib, who called on Mr Assad to agree to let Vice President Faruq al Sharaa open peace talks with his coalition, appealed for the opposition to "declare our willingness to negotiate" the regime's departure.
However, he also set a deadline of Sunday for the government to release all women detainees, otherwise he would regard his offer of dialogue as rejected by the president.
The Assad regime has signalled it believes it can still break the military stalemate, as its forces relentlessly pounded rebel lines around Damascus.
"The army has launched a co-ordinated all-out offensive on all of the areas surrounding the capital," a Syrian security official said.
"All entries to Damascus have been sealed," he told the AFP news agency.
Artillery and air strikes have prevented rebels entrenched to the east from advancing despite their capture of army fortifications, opposition activists said.
"We have moved the battle to Jobar," said Captain Islam Alloush of the rebel Islam Brigade. The district links rebel strongholds in the suburbs with the central Abbasid Square.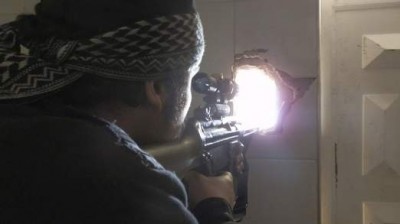 "The heaviest fighting is taking place in Jobar because it is the key to the heart of Damascus," he added.
Shia Iran is Mr Assad's main backer in the region, and has disagreed with mostly Sunni-led Arab states that have called for him to step down.
Meanwhile, the presidents of Iran, Turkey and Egypt held a meeting on the sidelines of an Islamic summit in Cairo to discuss the crisis.
"There was a three-way summit of Egypt, Turkey and Iran about the crisis and we look forward to it leading to the resolution of this crisis. We are optimistic," Mr Salehi said.
He said Iran had welcomed Mr Alkhatib's remarks. "In the end, the government and the opposition must sit together to negotiate," he said.
The UN has said more than 60,000 people have died in violence since the uprising started in March 2011.
Sky News