Bulgaria: The 2 Hezbollah suspects are living in Lebanon- update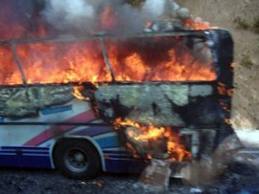 The two living suspects behind a bus attack that killed five Israeli tourists in Bulgaria last year have been identified and both are now living in Lebanon, a top Bulgarian security official said Wednesday.
The bomb that exploded July 18 as the Israeli tourists were boarding a bus at the airport in Burgas also killed a Bulgarian bus driver and the suspected bomber. Three men are suspected in the attack, including the dead bomber.
On Tuesday, an official Bulgarian report said investigators had "well-grounded reasons to suggest" that two of the suspects belonged to the militant wing of the Islamist group Hezbollah. The report said they had been living in Lebanon for years, one with a Canadian passport and the other with an Australian one.
Stanimir Florov, head of Bulgaria's anti-terror unit, said Wednesday that the names of the suspects were known, they were now based in the same country and "we have asked Lebanese authorities to assist in our investigation." He did not elaborate.
The identity of the bomber remains unknown even though his DNA samples have been shared with intelligence agencies in other nations, he said, adding that no DNA match has been found in their databases.
Florov said the bomb was likely supposed to explode while the bus was in motion "but the terrorists obviously made a mistake."
Europol Director Rob Wainwright confirmed that comment, telling The Associated Press that investigators believe the bomber never intended to die. A Europol expert who analyzed a fragment of a circuit board from the bomb determined that it was detonated remotely, he said.
If the explosives had blown up while the bus was full, there would have been many more victims and much of the evidence would have been destroyed, Florov said.
"In that case, the investigation would have started from ground zero," he said.
Canadian Immigration Minister Jason Kenney told the National Post that one of the suspects was born in Lebanon, came to Canada at age eight, became a Canadian citizen and then left at age 12. He said he assumed the man was a dual Lebanese-Canadian citizen.
"I understand he may have been back to Canada a few times since then, but he has not has been a habitual resident in Canada since the age of 12," Kenney said.
WGME/ AP
Update:
The Canadian suspect in last year's fatal bus bombing in Bulgaria was born in Lebanon and only lived in Canada for a few years as a child, Canadian Immigration Minister Jason Kenney said Wednesday.
"My understanding is he came to Canada as a child at the age of eight, obtained citizenship three or four years after that, and left Canada at the age of 12," Kenney said.
"We believe he's likely a dual Canadian-Lebanese national who has not lived here as a permanent resident since the age of 12," he added.
Kenney also told reporters that parliament should consider stripping Canadians of their citizenship for acts of terrorism.
Lebanon Prime Minister Najib Mikati said that his government was "ready to cooperate with Bulgaria "