Bishops: Civil and religious marriages can coexist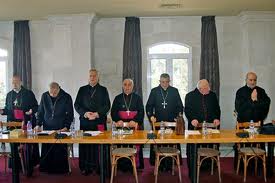 The Maronite's Bishop council said on Wednesday that civil marriage can coexist with religious marriage but cannot replace it.
"Marriage is one of the church sacraments and civil marriage cannot replace this sacrament. However, those who hold civil marriage, if they are believers, can later hold a religious marriage in order to take part in the other sacraments of the church," said the bishops.
According to the bishops, the issue of civil marriage has two aspects, a religious one and another which is constitutional.
"The constitution advocates the introduction of civil marriage in Lebanon," they said but "Those who marry in a civil union must complement it with a religious ceremony."
The civil marriage issue gained momentum soon after Kholoud Sukkariyah and Nidal Darwish challenged the sectarian personal status code in Lebanon and became the first couple to hold a civil marriage in lebanon. Since then another couple Shaza Khalil and Tony Dagher followed their lead and decided to tie the knot in a civil union.
Lebanon's top Sunni Muslim cleric, Grand Mufti Sheikh Mohammed Rashid Qabbani declared war on civil Marriage by issuing a fatwa branding as an apostate any Muslim politician who approves its legislation.
"Any Muslim with legal or executive authority in Lebanon who supports the legalisation of civil marriage is an apostate and outside the religion of Islam," he said on the website of Dar al-Fatwa, the official institution for fatwas.
He branded Civil marriage as a bacteria.
"There are predators lurking among us, trying to sow the bacteria of civil marriage in Lebanon, but they should know that the religious scholars will not hesitate to do their duty" and prevent the passage of such a bill. "
He issued a warning to Muslim officials who support the Civil marriage issue that they would not be eligible to be buried in a Muslim cemetery
" Such officials would not be washed, would not be wrapped in a burial shroud, would not have prayers for their soul in line with Islamic rules, and would not be buried in a Muslim cemetery," Qabbani warned
His fatwa came days after Lebanese President Michel Suleiman's announcement in Arabic and English on his Facebook page that Lebanon should work on drafting a civil marriage law to help build unity in the multi-faith country. Suleiman's announcement helped the issue gain momentum . 95 % of the respondents reportedly backed the president's position .
Lebanese authorities recognize civil weddings only if they have been registered abroad, and thousands of mixed-faith couples have traveled to nearby Cyprus or Turkey to marry.
Approximately 700 couples from Lebanon head to Cyprus only for civil marriages every year, the island nation's ambassador to Beirut, Homer Mavrommatis, said on Monday.
Security concerns
The bishops also voiced concern over the rising number of crimes in the country and "the expression of hostile feelings towards the security forces, including the Army."
"Citizens should respect the Army and security forces as they are the only legitimate institutions entitled to provide security and protection to them," said the bishops.
The bishops also reiterated their call for a new parliamentary electoral law that would secure fair representation to both Muslims and Christians.