Arsal mayor blames Hezbollah for the deadly clash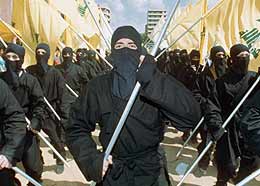 Ali al-Hojeiri , Mayor of the eastern Lebanon town of Arsal accused Hezbollah of implicating the Lebanese army's intelligence in the Arsal incident to "settle scores" with Syrian revolution activist Khaled Hmayed.
"What happened was an ambush set against Arsal residents in order to make them clash with the army," Hojeiri told Al-Anbaa Kuwaiti newspaper in remarks published Wednesday.
He also said that the attack against his town happened because of its "political affiliationo with the Future Movement and its support for the Syrian revolution."
Two LAF members were killed last week when their patrol team pursued Khaled Hmayed – a wanted man, in the Beqaa area of Arsal. Hmayed's family and friends surrounded the patrol force and opened fire, killing the two soldiers and injuring six others.
The incident prompted widespread condemnation from political and religious figures, while the army deployed reinforcements to the area and conducted a campaign of arrests.
"The town mayor will be called before the military court for investigation," Al-Anbaa newspaper said.
Hezbollah has been supporting the Syrian regime of the embattled president Bashar al Assad in its crackdown against the 22 months old uprising . over 60, 000 have been killed since the uprising began in March 2011
Committee
The residents of Arsal formed on Wednesday a committee to hold talks with senior officials following the deadly ambush .
The committee, according to Voice of Lebanon radio (93.3), will meet with Army Commander Gen. Jean Kahwaji, President Michel Suleiman, Speaker Nabih Berri and Prime Minister Najib Miqati in light of the recent attack that left two army soldiers and a suspect dead.
Former Prime Minister Saad Hariri said in comments published in the pan-Arab daily al-Hayat that those who are seeking to create strife by exploiting the recent incident in Arsal should halt their attempts.
He hailed the stance taken by the residents of the town after schoolchildren greeted soldiers with flowers on Tuesday.
Hariri described the act as "the true stance by the town towards the army."