Ravens win Super Bowl XLVII over the 49ers, 34-31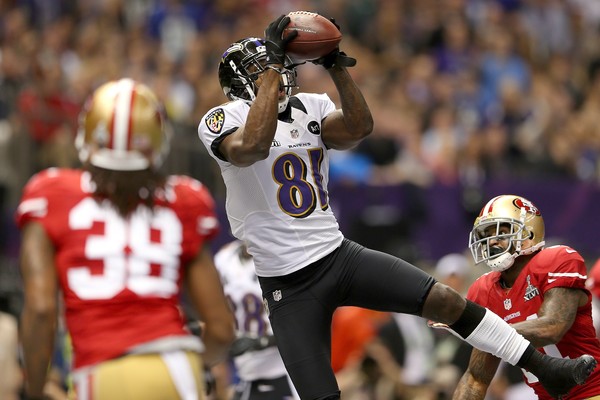 Baltimore Ravens are closing in on a Super Bowl title.
After moving the ball from their own 20-yard line to the Ravens' 5, San Francisco saw Baltimore defensive back Joey Smith break up a third-down pass to Michael Crabtree.
Colin Kaepernick was then rushed heavily, forcing a throw that 49ers Coach Jim Harbaugh begged for pass interference with a Ravens defensive back and Crabtree jostling for position.
The Kaepernick pass flew beyond Crabtree with cornerback Jimmy Smith tugging on his jersey.
The Ravens went three and out on their next possession, opting to take a safety with four seconds remaining as the punter ran out of the end zone.
It's now Baltimore 34, San Francisco 31.
Ravens 34, 49ers 29 (two-minute warning)
The San Francisco 49ers have never lost a Super Bowl, and now they find themselves in Joe Montana territory against the Cincinnati Bengals back in the day.
Taking possession at their own 20-yard line with 4:19 left in the game and trailing by five points, San Francisco quarterback Colin Kaepernick ran for a first down, then completed a 24-yard pass to receiver Michael Crabtree to the Baltimore's 40.
A Frank Gore run moved the ball to Baltimore's seven, and it's now the two-minute warning.
Ravens 34, 49ers 29 (4:19 left in fourth quarter)
The Baltimore Ravens have increased their lead over the San Francisco 49ers to five points with 4:19 left in regulation.
On a third-and-inches play with Ray Rice in the backfield would've appeared to call for a run, but the Ravens opted instead for another Joe Flacco pass to Anquan Boldin.
The completion kept San Francisco's raging offense off the field, as Boldin moved the Ravens to the San Francisco 39-yard line.
A Rice run picked up more yards, setting up a Justin Tucker 38-yard field goal.
Ravens 31, 49ers 29 (9:57 left in fourth quarter)
We have a two-point Super Bowl with 10 minutes remaining in the fourth quarter.
Minutes after a Baltimore field goal, the San Francisco 49ers responded with a 15-yard touchdown run by San Francisco quarterback Colin Kaepernick.
The two-point conversion pass failed and Baltimore leasds, 31-29.
LA Times