Nearly quarter million Syrian refugees in Lebanon, UNHCR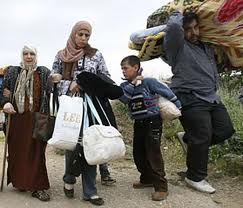 The United Nations High Commissioner for Refugees announced in its weekly report that the number of Syrian refugees in Lebanon has now exceeded 242,000
The report added that only about 165,000 refugees are registered with the refugee agency, while the others are still waiting to conclude the registration process.
"The number of refugees in Lebanon has risen by 20,000 during the last week of January," a statement released by the U.N. said.
The number of refugees significantly increased in the month of January, with the UNHCR registering 38,000 during this month, compared to 26,000 in December 2012.
The majority of Syrians and Palestinians reside in the north of Lebanon with their number reaching 80,450. Meanwhile, 63,288 refugees are in the Bekaa and 21,265 are spread between Beirut and the South, UNHCR reported
Lebanon is facing difficulties dealing with the increasingly high number of refugees fleeing Syria's violent uprising, which has resulted in the death of more than 60,000 people since its outbreak in March 2011.
The international donors have pledged a total of more than $1.5 billion in aid for affected Syrians during the conference that was held in Kuwait l;ast Wednesday.
President Michel Suleiman urged donors to provide Lebanon with $370 million assistance for refugees from Syria and called for countries to take in some of the displaced after ringing the alarm bell.