Iran, Russia step up support for Syria, says US VP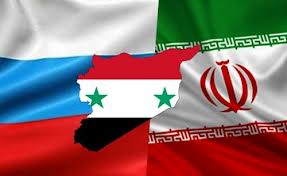 Iran is stepping up its support for Syria while Russia is still arming President Bashar Assad's regime and Israel has fired missiles into the country, heightening fears that the conflict may spill over its borders, U.S. officials say.
The assessments came as U.S. Vice President Joe Biden prepared to discuss the crisis at meetings in Munich with Russian Foreign Minister Sergey Lavrov, Syrian opposition chief Moaz al-Khatib and U.N.-Arab League envoy Lakhdar Brahimi.
Fresh concerns about the 22-month conflict sucking in the wider region arose after Damascus threatened to retaliate over a reported Israeli air raid and its key ally, Iran, warned the attack will have "grave consequences."
Assad's regime accused Israel of sending its warplanes to attack a military research center in Jamraya, near Damascus, on Wednesday. The Israelis have so far maintained a stony silence over the incident, as well as separate reports that its aircraft had struck a Syrian weapons convoy near the Lebanese border.
However, a U.S. official said Friday that an Israeli air raid in Syria targeted surface-to-air missiles and a nearby military complex on the outskirts of Damascus, as Israel feared the weapons would be transferred to the Islamist militant group Hezbollah in Lebanon. They were believed to be Russian-made SA-17 antiaircraft missiles, he added.
The planes also bombed an adjacent military complex of buildings suspected of housing chemical agents, the official said.
Israel has frequently warned that if Syria's chemical weapons fall into the hands of Hezbollah, Israel's sworn enemy and a close Damascus ally, this would be interpreted as a casus belli. The United States is also concerned that "chaos" in Syria could allow Hezbollah to obtain sophisticated weapons from Assad's regime, U.S. Defense Secretary Leon Panetta said.
The Lebanese Army said two soldiers were killed in a clash with unidentified gunmen in a village near the border with Syria on Friday as its military hunted a man wanted for "several terrorist attacks."
Russia expressed "deep concern" over the reported strike, saying it would be a brazen and unacceptable infringement of the U.N. Charter.
Meanwhile, Al-Khatib, Syria's top opposition leader, said Friday that he is willing to sit down for talks with Assad's government to "ease the pain of the Syrian people," although he emphasized that his goal is to "overthrow the regime by peaceful means."
Addressing a gathering of the world's top diplomats and defense officials at the Munich Security Conference, al-Khatib reiterated an offer first made Wednesday that provoked an outcry from opposition groups insisting Assad must first step down.
"We do believe in the power of the world and we would like to overthrow the regime by peaceful means," al-Khatib said. But "as a gesture of goodwill, we say, just to ease the pain of the Syrian people . . . we are ready to sit at the negotiating table with the regime."
He said that in return, Assad should carry out a gesture of goodwill by releasing rebel detainees.
Al-Khatib was chosen in November to head the newly founded Syrian National Coalition, an umbrella group designed to represent most of the rebels and soothe Western concerns about the ability of the opposition to pull together and present a viable alternative to Assad's rule.
His statement echoed comments al-Khatib made last week, marking a clear departure from the stance of the opposition, which has been categorically refusing to talk to the Syrian government. Al-Khatib last week asked for the government to first release tens of thousands of political prisoners. His offer provoked an outcry and al-Khatib backpedaled, saying he was just expressing his personal opinion.
The United States, its Western allies and most Syrian opposition groups insist Assad must step down as a prerequisite step.
Despite the controversy raised by al-Khatib's remarks, they created the first opening for possible dialogue to end the conflict.
Japan Times