Egypt's PM: We've failed to meet youth demands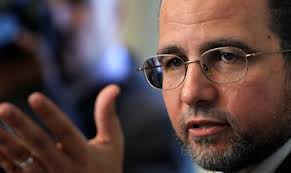 Egyptian Prime Minister Hisham Qandil condemns the Friday night violence during protests at the presidential palace, admitting the government's shortcomings in responding to protesters' demands.
"The government, as well as all political forces, has failed to accommodate the demands of the youth" Qandil said in a recorded, televised speech Saturday morning.
Tens of thousands of protesters took to the streets on Friday – in Cairo and across the country – to demand the dismissal of Prime Minister Hisham Qandil's government, the amendment of Egypt's newly-approved constitution and the appointment of a new prosecutor-general.
One protester was killed and dozens injured when protests turned violent at the presidential palace Friday night.
Live television footage showing a group of police soldiers stripping, dragging and beating a man caused an uproar of condemnations and demands to remove the interior minister.
"The absurd situation we are in should not be reduced to a scene of police forces dragging a civilian," Qandil comments.
However, the prime minister complains that: "Whenever we face a problem during the transitional phase, political forces demand sacking the government and dissolving the parliament. They ask that we knock down the institutions which we built ourselves.
"I call on political forces to halt protests, condemn violence and participate in the process of change by contesting [the situation] in the upcoming elections. Change through violence is not acceptable" he emphasised.
Qandil took a tour in a motorcade around Tahrir Square and the presidential palace, roughly 30 minutes away, in the early, calm hours Saturday following Friday's violence.
A group of protesters in Tahrir Square threw stones and bottles at the Egyptian prime minister's motorcade on as he tried to enter, reports Al Ahram Arabic news site.
In a comment on Qandil's official Facebook page, he said the incident reflects the "true nature of those who occupied Tahrir Square."
"These are not protesters and should not be allowed to enter demonstration areas and distort the image of the revolution under the political cover they are given" the statement argues.
Clashes between security forces and protesters were ongoing throughout the past week. Security used heavy teargas rounds against civilians' Molotov cocktails and fireworks.
Ahram on line