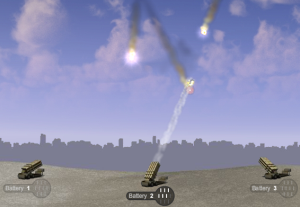 At least one Iron Dome missile defense battery was deployed Sunday in northern Israel amid reports of intense security consultations with Prime Minister Benjamin Netanyahu regarding Syria and the possibility of chemical weapons falling into the hands of Islamist rebels or being transferred to the militant group Hezbollah.
ilvan Shalom, a vice prime minister, described the movement of such weapons as a "red line" that could lead to Israeli military action.
"If there will be a need, we will take action to prevent chemical weapons from being transferred to Islamic terror organizations," Mr. Shalom said on Army Radio. "We are obligated to keep our eye on it at all times, in the event chemical weapons fall into Hezbollah's hands."
A spokesman for the Israeli Defense Forces said that the deployment of the Iron Dome in the north — where Israel borders Syria and Lebanon — was part of a routine rotation around the country and "not related to any current situation assessments." But Israeli journalists suspected otherwise, noting that Mr. Netanyahu had been in marathon meetings for several days with military and intelligence chiefs and senior ministers, with unusual strictures on secrecy.
"Something is happening for sure," said Ehud Yaari, a senior security analyst with Israel's Channel 2 News. "Even in Israel, which is usually tense, and the normal nervousness that you have in this country, this is exceptional now."
The intensifying focus on Syria here in Israel came as violence flared across the border. Syrian government warplanes and artillery increased attacks on rebels in the suburbs east and south of Damascus, fighting closed the highway to the Dara'a in the south, and clashes continued in Homs Province, in central Syria, and in the city of Deir al-Zour in the east, according to state news media and antigovernment activists.
The fierce fighting and desperate living conditions have sent 30,000 Syrians fleeing to Jordan in the past month, with thousands more entering Lebanon and massing on the border with Turkey — accelerating a flow that now totals 650,000 people who have fled and another 2 million displaced inside the country. The relief effort is underfinanced and overwhelmed, and the United Nations is seeking increased international aid.
The chaos worsened ahead of meetings on the crisis scheduled for Monday, when the main exile opposition group and its international backers are to convene in Paris, and civilian opposition leaders, including some who oppose the use of force, plan a conference in Geneva on building Syrian civil society.
President Obama, in an interview with The New Republic, signaled his continuing doubts about getting involved in the Syrian crisis, suggesting no dramatic change would be coming out of the meeting on Monday.
"In a situation like Syria, I have to ask, can we make a difference in that situation?" Mr. Obama said. "Would a military intervention have an impact? How would it affect our ability to support troops who are still in Afghanistan? What would be the aftermath of our involvement on the ground? Could it trigger even worse violence or the use of chemical weapons? What offers the best prospect of a stable post-Assad regime?
"And how do I weigh tens of thousands who've been killed in Syria versus the tens of thousands who are currently being killed in the Congo? Those are not simple questions."
More than 60,000 people have died in Syria's nearly two-year-old conflict, but international efforts to end the crisis appear stalled. The opposition is divided, and Russia, the main backer of Syria's president, Bashar al-Assad, is at loggerheads with the Syrian opposition's Western and Arab supporters.
Russia's prime minister, Dmitri A. Medvedev, told CNN that Mr. Assad's chances of remaining in office seemed to be getting "smaller and smaller" with each passing day, according to a transcript released by Mr. Medvedev's office on Sunday. But he reiterated Russia's insistence that Mr. Assad's ouster could not be a precondition for talks, as the American-backed Syrian opposition leaders have demanded.
Mr. Medvedev said the United States, Europe and regional powers must "sit the parties down for negotiations, and not just demand that Assad go and then be executed" like Libya's ousted leader, Col. Muammar el-Qaddafi, "or be carried to court sessions on a stretcher like Hosni Mubarak," the deposed Egyptian president.
If Mr. Assad is to step down, "this must be decided by the Syrian people," he said, "not Russia, not the United States, not any other country."
Fighting edged into a new area of Damascus, the capital, according to activists, who said rebels attacked a railway station in the district of Qadam, in the city's southwest. Video posted on the Internet showed gunmen walking near buildings by a railroad track and black smoke that activists said was from an airstrike. The claims were impossible to verify because of the government's restrictions on journalists inside Syria.
In Israel, Mr. Yaari, the television news analyst, said he had seen video and other reports of activity by Jaba el Nusra, an Islamist rebel group, near the "fences" of Sfira, which he described as a chemical weapons installation southeast of Aleppo, Syria. He also said there was a "raging battle" between Mr. Assad's forces and the Free Syrian Army near another installation on the southwestern outskirts of Damascus.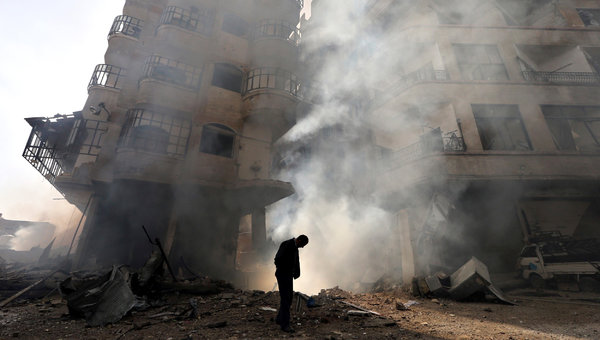 Israel is technically at war with Syria, though it has been a largely quiet conflict since a cease-fire line was established after the 1973 war. The current chaos in Syria has spilled across the border several times, with errant shells landing in the Golan Heights, a strategic plateau that Israel seized from Syria in 1967 and later annexed in a move that has not been internationally recognized. Israel has filed several complaints with the United Nations, and in November its tanks made a direct hit on Syrian artillery units after two consecutive days of incoming mortar fire.
Earlier this month, Mr. Netanyahu announced plans to build a security fence along the armistice line with Syria, similar to the one protecting its southern border with Egypt.
But the chemical weapons have been the chief concern for Israeli officials. On Sunday, the prime minister spoke of Syria in grave terms, linking it to Iran as potential existential threats to Israel in the context of International Holocaust Remembrance Day.
"We must look around us, at what is happening in Iran and its proxies and at what is happening in other areas, with the deadly weapons in Syria, which is increasingly coming apart," Mr. Netanyahu said at the start of his weekly cabinet meeting. "In the east, north and south, everything is in ferment, and we must be prepared — strong and determined in the face of all possible developments."