Brazil nightclub fire kills more than 200: police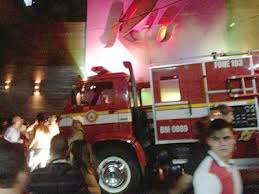 At least 200 people were killed in a nightclub fire in southern Brazil on Sunday after a band's pyrotechnics show set the establishment ablaze, local officials said.
Bodies were still being removed from the Kiss nightclub in the southern city of Santa Maria, Major Gerson da Rosa Ferreira, who was leading rescue efforts at the scene for the military police, told Reuters.
Ferreira said 159 bodies had been removed from the club, and the death toll was likely to rise above 200. He said the victims died of asphyxiation or from being trampled, and there were as many as 500 people inside the club when the fire broke out.
Luiza Sousa, a civil police official in Santa Maria, told Reuters the blaze started when a member of the band or its production team ignited a flare, which then set fire to the ceiling. The fire spread "in seconds", Sousa said.
Rio Grande do Sul state Health Secretary Ciro Simoni said respirators from all over the state were being sent to the scene.
Santa Maria is some 187 miles west of the state capital of Porto Alegre. "A sad Sunday!" tweeted Rio Grande do Sul Governor Tarso Genro. He said "all possible measures" were being taken in response and that he was on his way to the scene.
Reuters