Sheikh Assir made it to the ski resort despite objections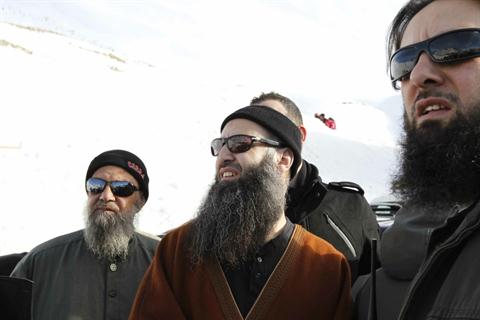 Salafist Sheikh Ahmad al-Assir  decided to go skiing Thursday  on the occasion of Prophet Mohmmad's birthday  and headed to Farayya  slopes but residents of   Kfar Zebian  didn't fancy him there   and blocked the road to the ski area according to local reports .
Thursday is a national holiday in Lebanon.
Assir wasn't alone . He was reportedly  in a convoy of more than a dozen cars and buses
According to reports  around 50 people blocked the road of Kfar Zebian.
The Army  didn't  like what was happening and was able to reopen the road before Assir's convoy arrived to the town    but the Kfar Zebian residents once again attempted to block the way.
But the army was able to reopen again , after  two people were slightly injured  and Assir's convoy was finally  able to make it to the ski area.
Interior Minister Marwan Charbel appealed to protesters to respect the state and Assir's right to reach the ski area.
"We don't want the problem to grow," he told LBCI TV.
Former Minister Farid Haykal al-Khazen also arrived at the scene and asked protesters to clear the road, but branded  Assir's visit as  suspicious and said he hoped the Sheikh would cut his trip short.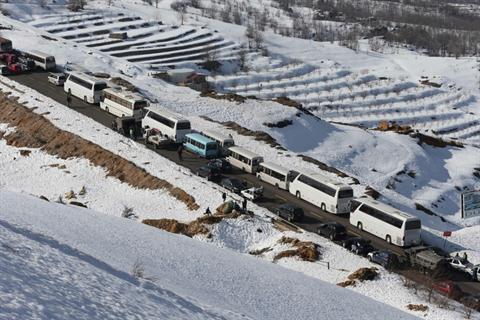 Khazen, a member of the Free Patriotic Movement, said Wednesday he opposes Assir's visit to the area and called on him to avoid such trips in the country's current circumstances.
The Lebanese Forces on the other hand  issued a statement denouncing the attempt to block Assir's passage to Kesrouan, arguing that all Lebanese have equal rights to visit all Lebanese regions.
"The right of Lebanese people with diverse opinions and affiliations is sacred and there is no justification for blocking roads with fabricated reasons," said the statement.
There was no word whether Sheikh Assir did actually hit the ski slopes, but judging from the picture all he wanted was to have a look and enjoy the scenery!!
Update: According to LBC Sheikh Assir held a prayer on the slopes.
Update 2 : Sheikh Assir's convoy left the ski resort area accompanied by the Lebanese Internal Security forces and has reached the coastal area of Kesrouan according to LBC. He is reportedly heading back to the city of Sidon his home town