Syrians Struggle With Shortages as Economy Buckles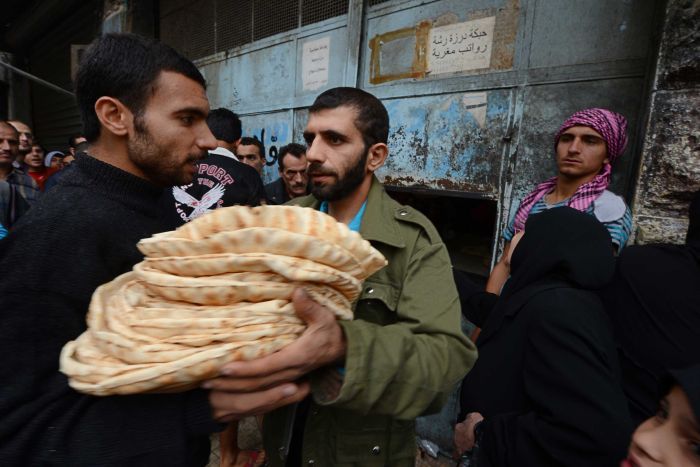 Grappling with severe fuel shortages and winter temperatures that drop below freezing, Syrians are spending hours in line every day for gasoline or a few loaves of bread at soaring prices as President Bashar Assad's regime faces mounting difficulties in providing basic services to its people.
Syria's economy is buckling under the twin strains of violence and sanctions that have sapped the government's finances, devastated the nation's cities and left its industry and infrastructure in ruins. A power outage on Monday plunged Damascus and large swathes of the country's south into darkness, providing a stark reminder of how serious the regime's challenges are to keep the economy moving — and its people fed and warm.
With the fighting settling into a bloody stalemate that looks likely to grind on for months, if not longer, the government's inability to provide basic services is likely to fuel frustration and anger with Assad, even from supporters who are deeply distrustful of the rebels fighting to topple him.
Monday's electricity blackout, which affected upscale areas in the heart of Damascus where rationing is normally less severe, was the latest in a series of infrastructural failures that the regime has blamed on the rebels. Late last year, the Internet and most telephone lines were cut for days as the regime and rebels traded blame. And over the year, the country's oil and gas pipelines, power stations and water pipes have all been attacked.
While Damascus's 2.5 million residents have grown used to frequent power cuts, this week's outage was the first to darken the entire capital since the conflict began in March 2011.
The winter months have brought misery and suffering to new levels, as the scarcity of food and fuel have meant people queuing for hours in cold weather for the most basic essentials, and others freezing inside their homes. In the countryside, people have resorted to chopping down trees and burning furniture to make fires to keep warm.
On a recent day in the poor Damascus neighborhood of Rukneddine, more than a 100 people stood outside al-Ameed bakery waiting to get 1.35 kilograms (3 pounds) of subsidized bread for 15 pounds (16 cents). Nowadays, Syrians can choose between subsidized bread or standard bread known as "touristic," which is abundant but four times more expensive than the subsidized.
With the economy in tatters and work hard to come by as the war grinds on, many families don't have the deep pockets for anything other than the cheapest option. One woman said she waited for four hours to get a pack of subsidized bread.
"I can't afford to pay more than that. My children need every penny," she said, requesting anonymity for fear of reprisals. Wearing a Muslim scarf around her head, the woman said she recently starting working as a cleaning lady to help raise her kids after her husband was killed by a shell last year.
The economic crisis has meant many children are dropping out of school to help their family make ends meet.
Yaman, a 12-year-old boy, quit school after his father was killed and his mother wounded when their home in the Damascus suburb of Douma was hit by a shell. He now makes a living standing in line to get bread, then selling the flat, round loaves to people who don't want to queue.
"Those who don't want to pay the high prices can go and stand in line," said Yaman, dressed in blue jeans, a shirt and flip flops on a cold January day as he held five packs of bread.
"I am not greedy," Yaman said, adding that he was now the only working member in the family. "I only do this for my family."
The government has fixed gasoline prices at about 75 cents per liter, but shortages mean residents must wait up to six hours in lines to fill up.
"There is almost no diesel in the city," said a taxi driver named Wael, who gave only his first name for security reasons.
He gets to the gas station around 6 a.m. and often waits until noon to fill up. Even then, the gas is rationed by the government to no more than 20 liters (5.2 gallons) per person — meaning he'll have to return the following morning around dawn to wait in line again.
"I hate my job," he said. "I've been trying to find a new one but I can't. How am I supposed to feed my kids?"
Cooking gas, too, has become a precious commodity, and people must wait more than two weeks to replace an empty bottle at the government rate of about $7 or pay as much as four times that on the black market.
"The situation is catastrophic in most of Syria," said Dubai-based Syrian economist Samir Seifan. "The economy is paralyzed. Whole sectors are paralyzed, especially the industrial sector."
Despite the ravaged economy, most analysts say the regime can survive for at least another year at current levels of spending, and perhaps even longer.
Seifan said one reason is the assistance that the regime reportedly is getting from its main regional ally, Iran, which has allegedly provided billions of dollars since the crisis began in March 2011.
"If this assistance stops, there will be an economic collapse," Seifan said.
U.S. and European Union bans on oil imports, which went into effect last year, are estimated to be costing Syria about $400 million a month.
Before the uprising, the oil sector was a pillar of Syria's economy, with exports — mostly to Europe — bringing in $7 million to $8 million per day.
This income was a key to maintaining the $17 billion in foreign currency reserves that the government had accumulated from a brief oil boom in the 1990s and maintained until last year. The government has not said what currency reserves it has left, but the London-based Economist Intelligence Unit estimates it to be a little more than $4.5 billion.
Earlier this month, the London-based Business Monitor International said it has revised the 2012 and 2013 real GDP growth forecasts in Syria and projects a contraction of 7.8 percent in 2012 and 3.4 percent in 2013, compared to its previous forecasts of a contraction of 7.1 percent and 2.6 percent 2012 and 2013, respectively.
The U.S. dollar today costs about 95 pounds at the black market compared with 47 pounds to the dollar when the crisis began. The government price is about 79 pounds.
For most of the residents of Damascus, which has yet to see the daily gun battles and shelling of other Syrian cities, the power cuts and fuel shortages are the most frequent reminder of the war that has engulfed much of the rest of their country.
Still, the situation in government-controlled areas is much better than in territories held by rebels.
The situation is markedly worse in the suburbs ringing the capital, some of which are controlled by the opposition and are frequent sites of clashes between rebels and regime troops as well as frequent targets of government airstrikes. Some of these areas have had no electricity for months and have only black-market gas driven in from elsewhere.
But whether in Aleppo or Damascus or the capital's suburbs, Syrians are weary of the strain of a conflict that has killed more than 60,000 people.
"Until when will this go on?" said Saeed, a taxi driver from Damascus. "Death is more merciful than living like this."
ABC/AP