Energy minister slammed over electricity blackouts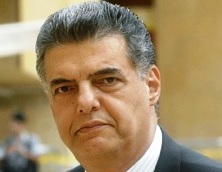 March 14 MP MP Atef Majdalani a key member of the Future bloc blasted energy minister Gebran Bassil accusing him of leaving Lebanon in the dark rather than pursuing the late former Prime Minister Rafik Hariri's plan to provide 24 hours of electricity to all regions of Lebanon.
"Instead of… [providing] the entirety of Lebanon with electricity 24 hours, [the energy minister's] primary goal is to spread darkness," National News Agency (NNA) quoted Majdalani as saying on Wednesday.
Last week, Al-Liwaa newspaper reported that the cabinet would discuss a proposal submitted by Bassil to increase electricity rationing in Beirut in an attempt to provide areas outside the capitol with a more equitable share of the country's electricity.
Earlier on Wednesday, Bassil confirmed media reports that he was planning to increase electricity rationing in Beirut.
"It won't be long before Lebanon is enshrouded in darkness, all in the name of change and reform," the Future MP stated.
Bassil is the son -in-law of Change and Reform leader MP Michel Aoun, a close ally of Hezbollah.
Hezbollah currently dominates the cabinet of PM Nagib Mikati.
According to analysts Lebanon is witnessing the worst blackouts ever . In Mount Lebanon areas which are classified as tourist resort are blackouts can last as long as 12 hours in one stretch.