First 50 Russians cross from Syria into Lebanon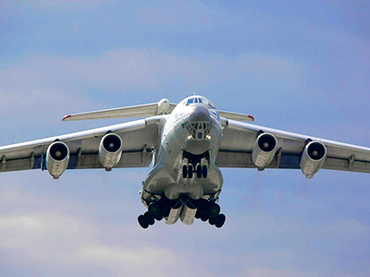 The first group of Russian nationals, some 50 people, who opted for leaving Syria, has crossed the Syrian-Lebanese border on three buses, escorted by Damascus-based Russian diplomats. These are Russian women who married Syrians, as well as their husbands and children who have Russian citizenship and who resided in Damascus, Aleppo, Hama and Homs. They will leave Lebanon for Moscow aboard Emergencies Ministry planes.
A total of more than 80 people said they would like to return to Russia. 8,008 Russians are registered at the Russian Consular Office as permanently or provisionally residing in Syria.
According to the Russian diplomats, another almost 25,000 Russian women who had married Syrians have chosen to ignore registration at the Consulate.
A group of Russian diplomats arrived Tuesday at the Jeida checkpoint on the Syrian-Lebanese border to give consular advice to Russians fleeing the Syrian conflict.
Two scores of Russian expatriates, mostly children and women, have already gathered at the border crossing. According to the embassy's list, a total of 81 people are willing to leave the country.
The refugees will be bused to the customs checkpoint of Masnaa in Lebanon, where they will be passed on to the members of Russia's Lebanese diplomatic mission.
Russia has dispatched the first emergency plane to the Lebanese capital of Beirut to fetch its citizens who are willing to leave the conflict in neighbouring Syria.
The Yakovlev Yak-42 plane bound for Beirut left the Moscow Domodedovo Airport at noon.
A total of three planes will set out for Lebanon on Tuesday – two Yak-42 passenger jets and an Ilyushin Il-76 airlifter.
Some 100 people are expected to board the planes to be flown home from Syria, which has seen a year of violence and bloodshed.
Hundred of Russians wishing to leave Syria to be transported from Beirut on Tuesday
Russian Emergency Situations Ministry planes will take aboard about a hundred Russian residents of Syria in Beirut on Tuesday. The trip will be made at their request. This is not an evacuation of Russians from Syria, the Russian Embassy in Damascus noted.
"This is absolutely not an evacuation; simply two flights from the Russian Emergency Situations Ministry will bring to Moscow everyone who wishes to go. First of all, these are the people whose homes have been destroyed and who live in 'conflict hotbeds'. About a hundred people," an Embassy source told Interfax on Tuesday.
Only Russians who have permanent residence in Syria will go to Moscow on Tuesday, the source emphasized. "These are only Russian citizens permanently residing here. There will be absolutely no Embassy workers on the planes," he said.
Russian emergency services have sent two passenger jets to Beirut on a mission to pick Russian nationals who want to leave Syria. The aircraft leave for Beirut on Tuesday, some 100 Russians are expected to be evacuated.
Two planes, Il-76 and Yak-42, both able to cary up to 120 passengers will be dispatched for Beirut, the ministry confirmed on Monday. The crews will include medics and psychologists.
About 150 Russian citizens, who want to leave Syria are already in Beirut. Most of those being evacuated are women and children.
Earlier media reported that Russia was considering using the navy to evacuate its citizens from Syria. This appeared to be confirmed when several warships were sent to the Mediterranean sea. But the Foreign Ministry denied the speculation, saying the deployment was for scheduled military drills.
In December a member of the National Coalition for Syrian Revolutionary and Opposition Forces, a newly formed opposition body recognized by the West, called Russian citizens in Syria 'legitimate targets.'
According to Foreign Minister Sergey Lavrov there are thousands of Russian citizens living in Syria. Many of them are not registered with the consulate, mostly women and children from mixed marriages.
ruvr.ru