UNSC split over Syria war crimes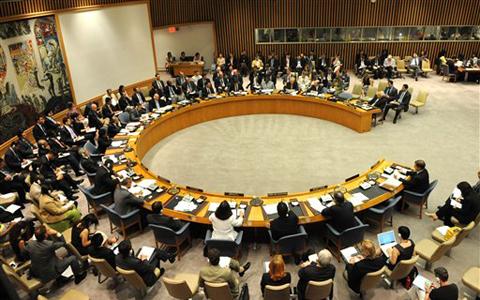 The UN Security Council is split over whether to refer reports of war crimes in Syria to the International Criminal Court, with some members arguing that such a move would encourage President Bashar Assad's regime to dig in and resist to the end in a conflict that has claimed at least 60,000 lives.
Five council members France, Britain, Luxembourg, Australia and South Korea — made a joint statement today urging that the world body ask the International Criminal Court to prosecute war criminals.
They were endorsing a Swiss petition to the Security Council, co-signed by at least 56 other nations, that the Court should take up the problem and that "no lasting peace is possible in Syria without taking consistent action against impunity" for war crimes, as the Swiss letter to the council said.
But British Ambassador Mark Lyall Grant conceded that "such a resolution would not be adopted today."
Russia and China have cast vetoes in the past to keep the Security Council from getting more deeply involved in the Syrian conflict.
Council President Masood Khan, the ambassador of Pakistan, says the council is divided over what to do.
He said some members contend that having the International Criminal Court pursue prosecutions would encourage Assad's regime to dig in and undermine efforts to find a peaceful solution.
They spoke after UN High Commissioner for Human Rights Navi Pillay told the Council on Friday that the death toll in Syria has reached 60,000.
She said the pace of killing has accelerated, from about 1,000 a month early in the conflict, when it was a crackdown on a civil protest movement, to some 5,000 a month now that a full-scale armed resistance has emerged to fight to topple the Assad regime, which is fighting back with air strikes.
Pillay has been urging the council to get the International Criminal Court involved since July 2012.
HT