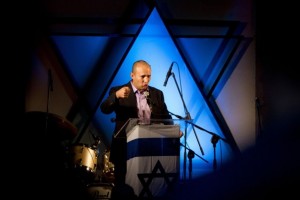 It was a mostly young crowd that turned out on a chilly winter night to hear Naftali Bennett, the leader of the religious nationalist party Jewish Home, deliver an appeal for understanding — not between Israelis and Palestinians, but among Israelis themselves.
"If it's important for you to return to Jewish values, to connect and break down barriers, then you have a home," Bennett told the audience gathered in a neighborhood synagogue. "The minute we lower the level of hate, we can solve many problems."
The appeal was tailored for a society where fierce debate often pits secular Israelis against ultra-Orthodox Jews, ideological settlers in the West Bank against liberals from places such as Tel Aviv, and the political right against the left.
But Bennett's pitch was also unabashedly nationalist, and its popularity — demonstrated by his party's strong showing in polls ahead of the Jan. 22 elections — reflects the rightward drift of the Israeli electorate. Both secular and religious voters have given Jewish Home a boost at the expense of the front-running rightist ticket led by Prime Minister Benjamin Netanyahu.
With efforts to resolve the conflict with the Palestinians at an impasse, many Israelis who have grown deeply skeptical of chances for an agreement are drawn to Bennett, a 40-year-old political newcomer who seems to offer clear answers to complicated questions.
While Netanyahu and other mainstream Israeli politicians say they accept a two-state solution to the conflict, Bennett dismisses it as unrealistic. He argues that a Palestinian state would endanger Israel by becoming a base for militant attacks and a magnet for millions of returning refugees who could infiltrate Israel's borders.
Instead, Bennett proposes what he calls a blueprint for managing the conflict: annexing to Israel about 60 percent of the West Bank, known as "Area C," where Israeli settlements are located and where Israel currently exercises full authority. Under the plan, Palestinians living in the annexed area would be granted Israeli citizenship, while those in other parts of the West Bank would have self-rule under an Israeli security umbrella.
"He's shouting out a simple truth that we've forgotten: That the land of Israel is ours," said Ohad Azran, 27, a secular supporter who came to Bennett's campaign gathering. "We don't have to do what the world tells us, but what we think is right. He's saying what Zionism has always said."
Critics of Bennett's plan call it a recipe for a binational state that contradicts the principles that guided Israel's founders, who accepted the partition of British-ruled Palestine into Jewish and Arab states.
"The right realizes that it has no solution. This is an illusion that confirms the existing situation and offers no alternative," said Hagit Ofran of the anti-settlement group Peace Now, which has posted a rebuttal of a video outlining Bennett's plan that is circulating on social media.
Yedidia Stern, who heads the project on religion and state at the Israel Democracy Institute, said Bennett's electoral appeal is an example of how religious nationalists, estimated at only 12 percent of Israel's population, "are setting the agenda and have become a central factor in all the big questions of peace, security, foreign policy and the country's Jewish identity."
Religious nationalists, commonly known as religious Zionists, are heavily represented among army cadets and officers and increasingly prominent in the judicial system and the media. The rise of Jewish Home is "the political expression of the same phenomenon," Stern said.
A former officer in the army's elite Sayeret Matkal commando unit who made millions as a high-tech entrepreneur, Bennett, an observant Jew, embodies the integration of the religious nationalist community in broader society. He has actively promoted that theme since winning the leadership of his party in November.
Avi Ben-Sheetrit, 28, an ambulance services worker who attended Bennett's campaign event, said that while he was not religious himself, he liked the candidate's inclusive message.
"He doesn't represent one sector, he's for all the people of Israel," he said. "There's no difference between religious and secular, we're all the same."
The son of Americans who immigrated to Israel from San Francisco after the 1967 Six-Day War, Bennett served as chief of staff for Netanyahu when he was opposition leader and later as director-general of the settlers' umbrella group, the Yesha Council.
With his message of outreach, Jewish Home has enjoyed a surge of popularity, and according to latest polls would emerge with as many as 14 parliamentary seats, becoming the third-largest faction in the legislature.
That would make it a key element in a future governing coalition, likely to be led by Netanyahu.
Netanyahu's Likud party, running on a joint ticket with the ultranationalist Yisrael Beiteinu faction, holds a commanding lead in the polls, although it has had to scramble in recent weeks to stanch the bleeding of votes to Jewish Home.
Netanyahu lambasted Bennett last month for suggesting that as a reserve army officer he would refuse orders to evacuate Jewish settlers, and Likud television ads are highlighting hard-line statements by settler leaders on the Jewish Home ticket.
Support of settlers
Among religious settlers in the West Bank, where Bennett's party has traditionally enjoyed overwhelming support, there is hope that his rising popularity and broad message could build bridges to the rest of Israeli society.
"Connecting with the Israeli public gives us power, and instead of being viewed as delusional, we could have public backing," said Eliezer Nissim, a kindergarten teacher at Ofra, a community near the West Bank city of Ramallah that is considered the flagship settlement of religious Zionism.
Rafi Smith, an Israeli pollster, said that Bennett, who campaigns under the slogan "Something new is beginning," had brought new blood to an election landscape littered with all-too-familiar political faces.
"He brings something fresh and a sense of hope, and with the whole country shifting more to the right in recent years, he represents that trend," Smith said, noting the robust support for Bennett among young voters.
In an interview, Bennett attributed his party's rising popularity to what he called a desire among many Israelis to return to their roots.
"People want a more Jewish state," he said. "There's a Jewish Spring in Israel."
Washington post