Google Chief Presses North Korea on Internet Access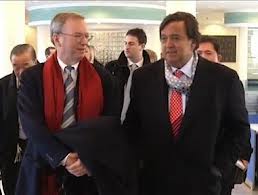 Google Inc. executive chairman Eric Schmidt and former Gov. Bill Richardson said they urged North Korea's government to drop barriers to Internet access to boost its impoverished economy. Officials in the isolated country, they added, appeared open to technological exchanges.
However, Mr. Richardson reported little progress in talks on military issues. North Korea triggered further international alarm about its military intentions in December after a successful rocket launch demonstrated advancing missile capabilities.
"As the world becomes increasingly connected, their decision to be virtually isolated is very much going to affect their physical world," Mr. Schmidt said in Beijing on Thursday, as he returned from a three-day trip to North Korea with Mr. Richardson, a former New Mexico governor. He added that it would "make it harder for them to catch up economically. We made that alternative very, very clear."
North Korea has an Internet infrastructure, but it is accessible only to the government, the military and universities, not the general population, according to Mr. Schmidt. Its use is monitored by authorities. The country's cellular network doesn't carry Internet data, which means that the Internet can't be accessed via mobile phones and other devices.
The trip to North Korea was billed as a humanitarian mission. Mr. Schmidt said it was "a private visit to North Korea to talk about the free and open Internet." Mr. Richardson described the discussions with North Koreans on technology as the most productive talks of the trip.
Mr. Richardson said the delegation didn't meet with North Korean dictator Kim Jong Eun. He said he urged others in the government to move toward a moratorium on ballistic missile tests. "We need dialogue on the peninsula, not confrontation," he said.
The North Koreans maintained that the December rocket launch was for peaceful and scientific purposes. "I must say I personally disagree," Mr. Richardson said.
Mr. Richardson also said he pressed North Korean officials about an American who is being detained there, and was encouraged by their statements that judicial proceedings will begin soon and that the detainee's health is good. Kenneth Bae, 44 years old, has been held since late last year on unspecified charges.
Mr. Richardson said North Korean officials had expressed encouragement at statements from South Korea's President-elect Park Geun-hye, but didn't elaborate.
He said leadership transitions in the region provided an opportunity for a reset in relations with North Korea. In addition to Ms. Park's election, regional powerhouses Japan and China both have new leaders. Mr. Kim, North Korea's leader, recently marked his anniversary in power following the December 2011 death of his father. Mr. Richardson said the naming of a new U.S. secretary of state could also help reset dialogue.
Google's advocacy of global free speech has put it at loggerheads with governments in some markets. Google essentially pulled out of the mainland China market in 2010 over concerns about censorship and cyberattacks. Asked whether Google had aspirations in North Korea, Mr. Schmidt said the government first needed to open its Internet further.
The delegation went to North Korea over the objections of the U.S. State Department. In addition to Messrs. Schmidt and Richardson, the group included Jared Cohen, a former State Department official who founded Google's think tank, Google Ideas, and Tony Namkung, a longtime adviser to Mr. Richardson who has previously traveled with him to North Korea.
WSJ