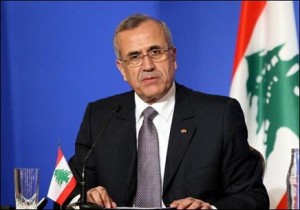 Lebanese President Michel Suleiman on Saturday called off the National Dialogue session that had been scheduled for January 7, National News Agency reported.
NNA added that no other date has been set for the upcoming session.
Suleiman's decision comes despite repeated calls on the March 14 leaders to attend the session that was scheduled for January 7, but the March 14 group insisted on refusal to attend any meetings that include government representatives as long as the current pro-March 8 cabinet remains in power.
March 14 made the boycott decision in the aftermath of the October assassination of Intelligence Chief Brig. Gen. Wissam al-Hassan, for which Syria and Hezbollah were blamed
Future Movement MP Nabil De Freij said Saturday the March 14 group should not be blamed for boycotting Dialogue sessions, saying a return to the talks would not ease political tension in the country.
"No party can blame March 14 for boycotting this dialogue because items that were agreed on during last dialogue sessions were not respected," De Freij told Voice of Lebanon radio station.
He was referring to the Baabda Declaration adopted by rival leaders in one of last year's sessions which stipulates that Lebanon should be at a distance from regional conflicts particularly events in Syria.
"A return to Dialogue will not contribute to easing political tensions because Hezbollah's decision to use arms is not up to Hezbollah chief Sayyed Hassan Nasrallah but is a foreign decision and Hezbollah violated the Baabda Declaration when it launched the Ayyoub drone," he added.
Shouf
NNA also reported that Suleiman praised the removal of a controversial building from land belonging to the Maronite church in the Shouf town of Breeh, about 40 km from Beirut
"This accomplishment will turn the last page in the book of the return of the [Christian] displaced, and open a new book of national unity and coexistence," the president was quoted s saying
On Friday, the leader of the mainly Druze Progressive Socialist Party, MP Walid Jumblatt, visited Maronite Patriarch Bechara Boutros Rai and confirmed to him that a controversial building had been removed from land belonging to the Church in the Shouf town of Breeh.
"We removed recently the building violation off Christian property in the town of Breeh, thus ending all the sufferings of the sectarian war in the area," Jumblatt said following his meeting with Rai adding: "When the patriarch visited us in the Shouf last summer, we promised him to work on healing the wounds resulted from the civil war in the area."
This error message is only visible to WordPress admins
Error: No connected account.
Please go to the Instagram Feed settings page to connect an account.