Lebanon Mufti: The Syrian refugees are our brothers, guests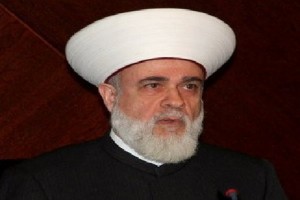 Grand Mufti of the Lebanese Republic Sheikh Mohammad Rashid Qabbani rejected the calls for expelling the Syrian refugees that have fled violence in their country for Lebanon, saying they are our brothers and warned against harassing them.
"Nobody, be it a politicians or civilian , is allowed to harass Syria refugees and demand they leave Lebanon, for they are our brothers and guests here," Qabbani said in a statement issued on Friday.
He urged the Lebanese, Arab, Islamic and international organizations to "redouble their efforts to aid Syria refugees in Lebanon, especially during the winter season."
"Dar al-Fatwa has done and is still doing its duty towards the Syrian brothers who fled their country and came to Lebanon seeking safety."
Lebanon is divided over the issue of refugees fleeing Syria's violence. While March 8 alliance which is headed by Hezbollah supports the Syrian regime and is opposes the influx of Syrian refugees , The March 14 alliance supports the uprising and has been supporting the Syrian refugees .
Lebanon cabinet yesterday approved a plan to dea with the Syrian refugees but the plan was opposed by the minsisters representing MP Michel Aoun a close ally of Hezbollah .
Prior to the cabinet meeting Energy Minister Gebran Bassil ( Aoun's son-in-)law was quoted by Al-Akhbar newspaper as saying that the waves of refugees fleeing war-torn Syria into Lebanon will have a devastating impact on Lebanon.
"The issue of refugees from Syria has become a big and dangerous problem and it could scupper the election law and the entire country," Bassil said.
Syria is witnessing a violent uprising against the regime of President Bashar al-Assad, which has so far killed more than 60,000 people since its outbreak in March last year, according to figures released by the United Nations.
Now