Bulgaria identifies a suspect in the Israeli bus bombing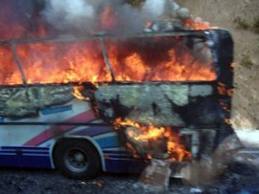 Sofia has identified and issued an arrest warrant for one of several foreigners believed to have assisted a man who killed six people plus himself in a bomb attack on Israeli tourists in Bulgaria in July, a senior investigator was quoted as saying Thursday.
"The investigation has evidence for the implication of three persons. The identity of one of them has already been established," Stanelia Karadzhova, head of the regional investigation unit in Burgas where the bombing took place, told the 24 Hours newspaper in an interview.
A search warrant has been issued, Karadzhova said. She gave no details except to say that the suspect was male and that his country of origin was known, even if he has resided elsewhere for the past six years.
Karadzhova also said that the suspected helpers—thought to number two, possibly three—and the bomber were never seen together. They also had no phones or laptops, making it unclear how they communicated.
They were linked however on the basis of their similar fake identification documents—all from the US state of Michigan—and an identical way of life "with few needs, very ordered and simple, like in the army, which suggests they had the same type of training," she added.
Bulgaria has already released through Interpol a composite portrait of the bomber, whose severed head and limbs were found at the site of the July 18 attack on a tourist bus at Burgas airport on the Black Sea, as well as a computer-generated image of one of his suspected helpers.
The attacker, who Karadzhova said was aged between 20-25 and about 1.80 meters tall, was initially thought to have been a suicide bomber but new evidence about his moves in the days before the attack indicated that he did not intend to die.
"The possibilities are two—that he pushed the button himself by mistake or if there was some turmoil, which we do not know, that somebody 'helped' him" by triggering the explosion remotely, Karadzhova said.
DNA samples and fingerprints from his remains have so far found no match on any of the available Interpol databases, preventing Bulgaria from identifying him and laying the blame for the attack at any organization.
Immediately after the attack—which killed five Israeli tourists and the Bulgarian bus driver and left around 30 people injured in the deadliest attack on Israelis abroad since 2004—Israel blamed Iran and its "terrorist proxy" Hezbollah, the Lebanese militia movement.
AFP