Philippine container port operator pulls out of Syria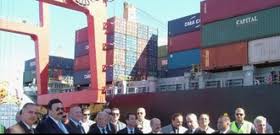 Beirut, Lebanon – A Philippine container port operator has decided to pull out of Syria and withdrew all its Filipino workers from a key port due to increasing dangers from the country's civil war, company officials said Wednesday.
The withdrawal of Manila-based International Container Terminal Services Inc., through its Syrian subsidiary Tartus International Container Terminal, or TICT, could effectively derail cargo services at the northwest port city of Tartus.
The Philippine company was the sole container operator in Tartus through a concession granted by Syria's Ministry of Transport, according to ICTSI Senior Vice President Hans-Ole Madsen.
Tens of thousands of people are believed to have been killed since the uprising against President Bashar Assad began in March 2011. An analysis released Wednesday by the United Nations says at least 60,000 people have died, with scores of armed groups across the country fighting regime forces.
The Syrian civil war "has exposed everyone, combatants and civilians alike, to increasing threat of death and destruction on a daily basis," the company said in a report to the Philippine Securities and Exchange Commission.
In a separate statement it said that "to continue operations in Syria under those circumstances was clearly unsustainable and dangerous to TICT personnel."
Since 2011, ICTSI said it had been operating under extremely difficult conditions in Syria as a result of trade sanctions by the European Union and the United States and the closing to trade of the Syria-Iraqi border. Tartus should have been the staging point for transshipment trade to and from Iraq, the company said.
The crisis has set back trade growth and forecasts, the company added.
When ICTSI made its bid to operate the Tartus port in 2005, "Syria's container market was growing and on track as projected. However, volumes started to plummet by 4 percent in 2010 and 14 percent by end 2011. The drop has set the Syrian container market back five to six years at 2006-2007 levels," it said.
ICTSI said its subsidiary TICT, which signed a 10-year investment agreement with Tartus Port General Co. in 2007 to operate and develop the container port terminal, had paid more than $13 million in port fees and rentals to the Syrian company.
But it said when TICT sought help amid the unrest, its Syrian partner refused to extend any assistance, which the Philippine company said was provided for under the agreement.
ICTSI, which was established in 1987 in the Philippines, said its container port operations in other countries, including the United States, China, Japan, Poland, Croatia and Brazil, would not be affected by the shutdown of its business in Syria.
Associated Press