Mikati defends cabinet over handling of Syrian refugees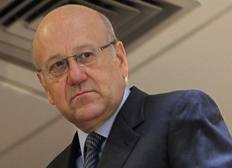 Lebanese Prime Minister Najib Mikati warned on Wednesday of the negative impact of linking the case of Syrian refugees in Lebanon to local political disputes.
He said: "Targeting any ministry or official Lebanese agency over their handling of the issue is unjustified and unacceptable."
He was responding to the accusations by Syrian ambassador to Lebanon Ali Abdul Karim Ali who recently sent letters to the Lebanese Foreign Ministry complaining that the Social Affairs Ministry was involved in helping "extremist Salafist organizations."
"The government, with all of its agencies and ministries, never discriminated against a pro- or anti-Syrian regime supporter," he emphasized.
"It handled the refugee file from a humanitarian approach and it is therefore unacceptable that any ministry be attacked over its tackling of this issue," stressed Mikati.
Mikati made his remarks while chairing a meeting on the Syrian refugees without mentioning the Syrian envoy .
The meeting which was held at the Grand Serail, was attended by Social Affairs Minister Wael Abou Faour, Interior Minister Marwan Charbel, Defense Minister Fayez Ghosn, Education Minister Hassan Diab, Health Minister Ali Hassan Khalil, and head of the Higher Relief Council Ibrahim Bashir.
Mikati added: "The government and all of its ministries and agencies were capable of meeting the relief demands of the Syrian refugees from the very beginning of the Syrian crisis."
Mikati remarked however that the government is no longer capable of meeting the demands of the ever-increasing number of refugees despite the assistance of government and non-government agencies.
He stressed that the government devised a plan to meet the demands of the refugees, which includes the fair distribution of resources and aid and following up on their needs.
It carried out this plan to complement that of United Nations agencies, he said.
Ali who sent two complaint letters claimed that his mission had received complaints from Syrian refugees claiming "extremist Salafist organizations" were demanding that they declare their opposition to the regime of Syrian President Bashar Assad in return for aid through the U.N. High Commissioner for Refugees.
The ambassador accused the Social Affairs Ministry of being responsible for the pressure exerted on the displaced.
Prelude to a bomb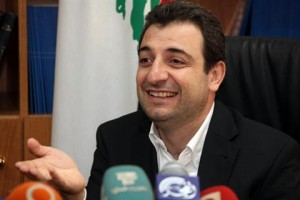 Abu Faour on the other hand strongly believes that he is being targeted by the Syrian regime through its Ambassador to Lebanon.
"The Syrian messages area a prelude to a bomb that wil taget me" Abu Faour who represents the Progressive Socialist Party (PSP) in the cabinet was quoted as saying in response to the second letter received from the Syrian envoy.
PSP is headed by MP Walid Jumblatt who has been a leading critic of the Syrian regime in its crackdown against the Syrian people.
Abu Faour's comment was in response to the second letter of complaint that was sent by Syria's envoy to Lebanon to the Social Affairs Ministry accusing it of aiding refugees based on their political affiliation.
"The Syrian ambassador sent a new letter with accusations against the Social Affairs Ministry and I repeatedly said that after the holidays, I will respond to such allegations," Abu Faour told reporters on Wednesday