At least 60 died in New Year's Eve stampede in Abidjan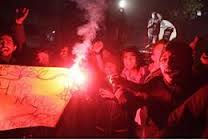 At least 60 people were crushed to death and dozens more injured as crowds stampeded in the Ivory Coast city of Abidjan during a New Year's Eve fireworks display.
The head of military rescue workers, Lieutenant Colonel Issa Sako, told public television that "60 people" had died and 200 were injured, based on a preliminary toll.
He said the incident happened near Felix Houphouet Boigny Stadium where a crowd had gathered to watch fireworks.
The flow of people coming to the entrance caused a "very large crush", he said. "In the crush, people were walked over and suffocated by the crowd."
A Reuters correspondent said there were blood stains and abandoned shoes outside the stadium on Tuesday morning, and government officials and rescue and security forces were still there.
Images broadcast by RTI television showed bodies stretched lifeless on the ground.
Most of the dead are believed to be children, aged between eight and 15.
"My two children came here yesterday. I told them not to come but they didn't listen. They came when I was sleeping. What will I do?" said Assetou Toure, a cleaner.
She said she did not know if her children survived.
ABC