Chavez suffers 'new complications', says VP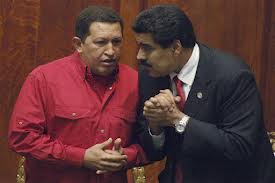 Hugo Chavez has suffered "new complications" following his cancer surgery in Cuba, his vice president said Sunday, describing the Venezuelan leader's condition as delicate.
Vice President Nicolas Maduro spoke with a solemn expression in a televised address from Havana, saying he had spoken with Chavez and that the president sent greetings to his homeland. He did not give details about the complications, which he said came amid a respiratory infection.
"Several minutes ago we were with President Chavez. We greeted each other and he himself referred to these complications," Maduro said, reading from a prepared statement. Maduro was seated alongside Chavez's eldest daughter, Rosa, and son-in-law Jorge Arreaza, as well as Attorney General Cilia Flores.
The vice president's comments suggest an increasingly bleak outlook for the ailing president. The Venezuelan leader has not been seen or heard from since undergoing his fourth cancer-related surgery Dec. 11, and government officials have said he might not return in time for his scheduled Jan. 10 inauguration for a new six-year term.
"The president gave us precise instructions so that, after finishing the visit, we would tell the (Venezuelan) people about his current health condition," Maduro said. "President Chavez's state of health continues to be delicate, with complications that are being attended to, in a process not without risks."
Maduro held up a copy of a newspaper confirming that his message was recorded on Sunday.
Houston Chronicle