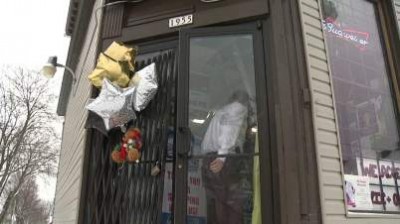 Fawzi Abu-Hamdan, a 53-year-old Lebanese-American, was murdered by an armed robber on Friday night in Milwaukee, Wisconsin. The victim was killed in a store he owned at about 9 p.m. when Abu-Hamdan became involved in a struggle with a masked gunman who entered the store and demanded money.
Neighbors say they knew him by his nickname "Fred", saw Abu-Hamdan as a fixture in their community, calling him "generous" and "well-liked."
Kenneth Petty lit a candle Saturday afternoon and left it on the store's doorstep, along with a handwritten card. Petty says "Fred" was popular in the neighborhood for giving kids free candy and chips, and accepting credit from customers when they couldn't pay.
"He was a great man to the community. He helped take care of us. If somebody needed something and didn't have the money at the time, he was a compassionate person," said Petty.
Forensic investigators were inside the store Saturday. Police say an armed and masked man entered the store around 9:00 p.m. Friday and tried to rob it. That person confronted Hamdan and made demands. A struggle ensued and during that scuffle the suspect shot and killed Hamdan. The suspect fled in a dark colored SUV.
J.P. Perry says his family has known the store owner for at least twenty years. Perry says the store has been robbed before, and he hopes one of its security cameras captured video that will help catch the suspect.
"He was a good man. He did everything he could for the people. My condolences go out to his family, said Perry.
William Jessup, deputy inspector at the Milwaukee Police Department, said the motive for the attack appears to be robbery and that no arrests have been made. The investigation is continuing, he said. So far no arrests have been made in connection with the shooting.
Sources: Fox6 Milwaukee, AP