Syrian refugee influx could break Lebanon,Jordan: Bahimi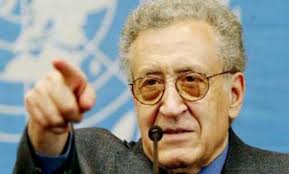 The United Nations envoy for Syria has warned that further violence could create waves of refugees which may destabilise neighbouring countries.
Lakhdar Brahimi said: "If you have a panic in Damascus and if you have 1 million people leaving Damascus in a panic, they can go to only two places, Lebanon and Jordan."
Both those countries could break if faced with half a million refugees, he said on Saturday after meeting the Russian foreign minister, Sergey Lavrov, in Moscow.
"If the only alternative is really hell or a political process, then we have got, all of us, to work ceaselessly for a political process," he said.
Neither Brahimi nor Lavrov gave an indication of progress toward resolving the 21-month-old conflict in which an estimated 40,000 people have died.
Lavrov said the demand by the Syrian opposition that President Bashar al-Assad step down as a precondition to talks was incorrect and counterproductive.
"The price for that precondition will be the loss of more Syrian lives," he said.
Meanwhile, in Syria government forces have pushed rebels from a district in Homs after several days of fierce fighting, opposition activists said on Saturday.
The army moved into Deir Baalba, a neighbourhood on the north-eastern edge of Homs, leaving the rebels in control of just the central neighbourhoods around the old city and the district of Khalidiya, immediately to the north.
Guardian