Syria hands over remains of 3 more Lebanese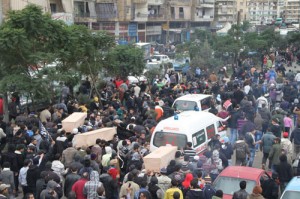 The remains of three Lebanese Islamist fighters that were killed during a Syrian army ambush in Tal Kalakh were delivered to their relatives in Tripoli Saturday. The remains were handed over via the northern border crossing of Arida.
The remains were identified as Lebanese nationals Abdel Hakim Ibrahim, Malek al-Hajj Deeb and Hussein Srour.
Tight security measures were taken in Tripoli in the morning, with the Army deploying heavily in Nour Square, the main entrance to the city's neighborhoods.
Three ambulances provided by Dar al-Fatwa crossed the Arida northern border into Syria to take the bodies and hand them over to Lebanese authorities. A delegation of sheikhs from Dar al-Fatwa was the first to arrive to the crossing, headed by the secretary of the organization, Mohammad Imam.
"We came here to receive and accompany the three bodies of the martyrs. This will close the file on this issue," Imam said.
But Sheikh Mohammad Ibrahim who represents the relatives of the killed fighters said the file is not closed yet : "Syria has handed over 10 bodies until now. We call for the release of captive Hassan Srour and the identification of the body of martyr Mohammad al-Rifai."
"We've already called for DNA testing on the remaining body in Syria but that hasn't happened yet," he added.
In a statement, General Security said it finalized the third phase of the repatriation process, adding that it would maintain contacts with Syrian authorities to ensure there are "no gaps" in the case.
There have been conflicting reports on the total number of fighters who were killed and whether any survived the Syrian army ambush in Tal Kalakh, which is located near the border with Lebanon.