Bassil accused of corruption in suspending Ammar project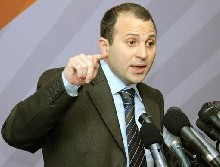 The Lebanese minister of energy Gebran Bassil was accused by MP Ghazi Youssef of suspending the construction project of a power plant in Deir Amar which was won by the Spanish company Abener-Butec because the Aounist company that bid for the project and his partner lost.
Youssef said: "Two companies related to the Aounists bid for the project ; one consortium was represented by Bassil's partner Charbel Habib and the other consortium was represented by Antoine Haddad who is a Aounist and both companies lost and that is why he is suspending the project. "
Bassil is the son-in-law of Free Patriotic Movement leader MP Michel Aoun.
According to reports the Spanish-Lebanese consortium, Abener-Butec, won the bid to build the power plant in Deir Amar, but Bassil later suspended the project, citing price hikes, and demanded the consortium to cut prices by around $160m and requested it to downsize the capacity of the plant from 525 MW to 450 MW or a new tender will have to be launched. But, not only does law 181 – voted by the Parliament in October 2011 to boost the country's power generation capacity – not authorize the Minister of Energy to negotiate with the companies in his own capacity, it also does not allow major changes to the contract . The Spanish-Lebanese consortium has declared it is ready to reduce the cost of the project by up to 10% and threatened to take the matter to court if it was not awarded the contract.
Abener-Butec is a partnership between Spanish firm Abener and local firm Butec. The firm was declared the winner last October 20th.
In addition to the corruption, one key problem in Lebanon is maintenance . The power plants that produced 2800 MW back in 1998 produce 1300 MW today. The Turkish ships were contracted to produce about 200 megawatts last summer to fill the energy deficit caused by the rehabilitation program of old power plants. But because of a dispute between the Ministry of Finance and the Department of Energy Lebanon may increasingly find itself in the dark at a long time .Bassil and Safadi reportedly disagreed on how to split the kickback from the Turkish company