Syrian troops mass at Palestinian camp as conflict flares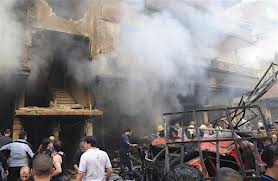 Syrian troops backed by tanks gathered outside the Palestinian Yarmouk refugee camp in Damascus on Monday, the scene of clashes between Palestinians loyal to President Bashar al-Assad and rebels supported by Palestinian fighters, activists said.
Clashes inside the camp continued on Monday with thousands of people fleeing to nearby suburbs. Syrian jets bombed the camp on Sunday killing at least 25 people.
Yarmouk, in southern Damascus, falls inside a swath of territory that stretches from the east to the southwest of the Syrian capital where Assad's forces have been trying to push back rebels from the gates of his power base for several weeks.
Arab League chief Nabil Elaraby on Monday urged all sides in the conflict to protect the Palestinians and to keep them out of the fighting. Syria hosts more than 500,000 Palestinian refugees, most of them in Yarmouk.
Reuters