Opposition rejects Iran's plan to end Syria crisis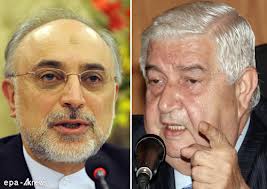 Iran has detailed a plan to put an end to the crisis in its ally Syria, calling for an immediate ceasefire and the start of national dialogue between Damascus and rebels, media reported on Monday.
The proposal, whose details were published on Sunday by the foreign ministry, was originally announced on Oct. 14, when Foreign Minister Ali Akbar Salehi gave it to visiting international peace envoy Lakhdar Brahimi.
The six-point plan calls for "an immediate halt to violence and armed actions under the supervision of the United Nations."
Tehran, the main regional ally of President Bashar al-Assad's regime, says the next step is "the lifting of sanctions against Syria to pave the way for the distribution of humanitarian aid."
"Once calm is restored, national dialogue must begin… a transitional government will then be in charge of organizing free elections for parliament, the constituent assembly and the presidency," the text of the plan reads.
Iran has long advocated a political solution and dialogue between the government and opposition groups to end the Syrian crisis.
However opposition groups reject any Iranian involvement in the search for a solution, reflecting the view that the US and some Western and Arab countries hold that Tehran is discredited by its unwavering support for Assad.
Tehran's proposal also envisages "the release of political prisoners by the government and impartial trial of those jailed for involvement in crimes" since the revolt broke out in Syria more than 21 months ago.
"A committee must be formed to assess the conflict's resulting damage to Syria's infrastructure," it said. "The current campaign of misinformation against Syria must also end."
Since the beginning of the revolt in mid-March 2011, more than 43,000 deaths have been recorded by the Syrian Observatory of Human Rights.
Al Arabiya