MP SaKr calls Syria's arrest warrants a "medal of honor"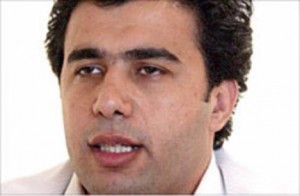 Future Movement MP Okab Sakr described the Syrian arrest warrants against him, former Prime Minister Saad Hariri and Syrian opposition media coordinator Louay al-Meqdad as a "medal of honor".
Hariri on the other hand described Wednesday Syrian President Bashar Assad as a "monster" .
Conflicting reports emerged on Wednesday on whether Lebanon received the Syrian arrest warrants which charge Hariri and Sakr of "arming and financing terrorist groups in Syria."
Interior Minister Marwan Charbel confirmed in comments published in al-Joumhouria newspaper the reports, saying the warrants will be referred on Wednesday to the general prosecution.
However, Justice Minister Shakib Qortbawi told LBCI that the judiciary didn't receive any warrants, saying that "he heard about the matter via media outlets."
Later, Syrian Ambassador to Lebanon Ali Abdul Karim Ali held talks with Foreign Minister Adnan Mansour folowing which he said that Syrian authorities tasked lawyer Rashad Salamah to file lawsuits against those who "cooperated with the Free Syrian Army and armed it."
Media reports said on Tuesday that the Interpol's office at the Internal Security Forces received the warrants by e-mail and forwarded it to Charbel, who in his turn informed State Commissioner to the Military Court Judge Saqr Saqr of the content of the warrants.
The move by Syrian authorities follows the requests by the Lebanese judiciary to question Syrian officials over their alleged involvement in the terrorism plot of former Minister Michel Samaha.
The Syrian officials are: Security chief Ali Mamlouk, a colonel identified only as "Adnan" and Buthaina Shaaban, Syrian President Bashar Assad's media adviser.
Samaha was arrested last August on charges of forming a criminal gang aimed at carrying out terrorist attacks in Lebanon on behalf of Syria.
When Michel Samaha was asked why he wanted to detonate Syrian explosives in Lebanon, the former minister replied, "This is what Bashar wants"
Pro Syrian media in Lebanon like the Al Akhbar newspaper and OTV newspaper recently leaked recordings of conversation between MP Sakr and Free Syrian Army official al-Meqdad to prove his involvement in arming of the Syrian opposition.
Sakr said on Tuesday that the arrest warrants prove that the Assad regime "forged the recordings."
Last weekend Sakr accused OTV and al-Akhbar of tampering with the audiotapes and saying that he will file a lawsuit against them.