Lebanon sets date for questioning Syrian officials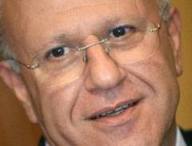 Lebanon Military Investigative Judge Riad Abu Ghida has  scheduled  January 14 as the date  for  questioning  two  of  the Syrian security officials involved in the  terrorism plot  of  former Information Minister Michel Samaha, according to  a Wednesday report by the National News Agency.
The 2 officials that will be questioned  are :  Syrian National Security Chief General Ali Mamluk and  Syrian Brigadier General who was  identified only by his first name "Adnan".
This development comes after Judge Saqr Saqr  requested on Monday  the questioning of the two Syrian security officials and  Syrian Presidential Advisor Bouthaina Shaaban  by the Lebanese judicial authorities.
Ghida  will not for the time being summon  Shaaban according to NNA
On August 9, Lebanese security forces arrested the former Lebanese minister, who has close ties with Syria's embattled regime, for smuggling weapons into Lebanon in a bid to foment terrorist plots.