Samaha's plot:Lebanon seeks testimony of Syrian officials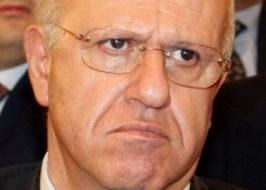 Lebanon's military prosecutor has asked an investigative judge presiding over the case of former Lebanese Information Minister Michel Samaha, who's accused of possession of explosives, to question two Syrian officers allegedly involved in supplying him.
Prosecutor Saqr Saqr has asked the judge to question the chief of Syria's National Security Agency, Ali Mamlouk, and Col. Adnan, whose last name is not known, the official Lebanese National News Agency said today. Saqr has also instructed the judge to consider the testimony of Syrian President Bashar al- Assad's adviser Bouthaina Shaaban, NNA said.
The agency reported in August that bombs were found in Samaha's car and that they had been prepared by the two Syrians. Judge Sami Sader, the government's deputy commissioner at the Military Tribunal in Beirut, charged Samaha and the two officers with plotting to assassinate religious and political figures, NNA reported then.
Business Week