Egypt: Mursi's concession fails to quell anger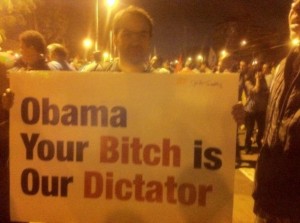 Egypt's president scrapped a decree that gave him extra powers and ignited violent protests, but irate opponents said on Sunday he had deepened the conflict by pressing on with a vote on a constitution shaped by Islamists.
President Mohamed Mursi and his Islamist partisans have insisted the referendum should go ahead on Dec. 15 to seal a democratic transition that began when a popular uprising felled Hosni Mubarak 22 months ago after three decades of one-man rule.
Ahmed Said, a liberal leader of the main opposition National Salvation Front, said Mursi's withdrawal of his Nov. 22 decree had not annulled its consequences, describing the race to a referendum as "shocking" and an "act of war" against Egyptians.
"I can't imagine that after all this they want to pass a constitution that doesn't represent all Egyptians," Said, head of the Free Egyptians Party, told Reuters.
The Front meets later on Sunday to respond formally to a late-night announcement on the outcome of a "national dialogue" convened by Mursi and boycotted by almost all his opponents.
The April 6 movement, prominent in the anti-Mubarak revolt, derided the result of Saturday's talks as "manipulation and a continuation of deception in the name of law and legitimacy".
Egypt tipped into turmoil after Mursi grabbed powers to stop any court action to hinder the transition. An assembly led by Mursi's Muslim Brotherhood and other Islamists then swiftly approved the constitution it had spent six months drafting.
Liberals, leftists, Christians and others had already quit the assembly in dismay, saying their voices were being ignored.
"A constitution without consensus cannot go to a referendum," said Hermes Fawzi, 28, a protester camped with dozens of others outside the presidential palace. "It's not logical that just one part of society makes the constitution."
More protests were planned near the palace, despite tanks, barbed wire and other barriers installed last week after clashes between Islamists and their rivals killed seven people.
The military, which led Egypt in transition for 16 turbulent months after Mubarak fell, told feuding factions on Saturday that only dialogue could avert "catastrophe". But a military source said these remarks were no prelude to an army takeover.
There is serious Western concern about growing Islamist power in Egypt, a close U.S. strategic partner under Mubarak who preserved the U.S.-brokered peace treaty Cairo signed with Israel in 1979.
NATION TORN
Mursi issued a new decree whose first article "cancels the constitutional declaration" of Nov. 22, the spokesman for the dialogue, Mohamed Selim al-Awa, told a midnight news conference.
He said the referendum on the constitution would go ahead next Saturday, citing legal obstacles to a delay.
Egypt is torn between Islamists, who were suppressed for decades, and their rivals, who fear religious conservatives want to squeeze out other voices and restrict social freedoms. Many Egyptians just crave stability and economic recovery.
Each side has mobilised tens of thousands of supporters in rival rallies in Cairo and other cities. Mursi's foes have chanted for his downfall. Islamists fear a plot to oust the most populous Arab nation's first freely elected president.
Islamists reckon they can win the referendum and, once the new constitution is in place, an election for a new parliament about two months later. The Islamist-led lower house elected this year was dissolved after a few months by a court order.
Investors appeared relieved at Mursi's retraction of his decree, sending Egyptian stocks 4.36 percent higher on Sunday. Markets are awaiting approval of a $4.8 billion IMF loan later this month designed to support the budget and economic reforms.
DISTRUST
The new decree removed some parts of the old one that angered the opposition, including an article that had given Mursi broad powers to confront threats to the revolution or the nation – wording that critics said gave him arbitrary authority.
It also dropped an article that had shielded Mursi's actions from the courts until a new parliament was elected, reflecting his distrust of a judiciary largely unreformed from Mubarak's era. But the new decree said "constitutional declarations including this declaration" remained beyond judicial review.
The new decree also set procedures to form an assembly to draft a new constitution if Egyptians vote this draft down.
The opposition was invited to propose changes to the text, echoing an earlier initiative by Mursi's team for amendments to be agreed by political factions and put to the new parliament.
Amid the violence and political bickering, the army has cast itself primarily as the neutral guarantor of the nation.
"The armed forces affirm that dialogue is the best and only way to reach consensus," the military statement said. "The opposite of that will bring us to a dark tunnel that will result in catastrophe and that is something we will not allow."
Reuters