Lebanon struggles to remain neutral, as Syria war widens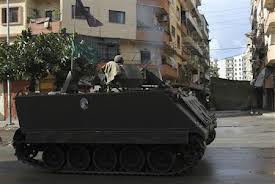 Beirut, Lebanon- For months, the Lebanese government has tried to remain neutral on the conflict in neighboring Syria.
But the passions unleashed by what is happening next door are proving harder and harder for Lebanon to contain, adding to concerns that it, too, could become enmeshed in the bloodshed.
In the latest turn, a Lebanese parliamentarian, Oqab Sakr, has been implicated in a plan to arm Syrian opposition fighters in their battle against the government of President Bashar al-Assad. Such activities would mark the first time a senior elected Lebanese official played a partisan role in the conflict across the border, and the revelation has rocked the Lebanese political system at its highest levels.
Perhaps not surprisingly, the loudest complaints have come from the allies of Hezbollah, even though the powerful militant group has already acknowledged supporting the Syrian regime, by sending fighters across the border to advise Assad's government forces.
"The two sides in the political divide in Lebanon are also taking sides in the Syrian conflict," said Hilal Khashan, a political science professor at the American University of Beirut. "You support your people, I support mine."
Already this week, at least a dozen people have been killed in Tripoli in street clashes linked to the conflict in Syria. There is now increasing concern that the tensions surrounding the Sakr scandal could kick off another round of violence in Lebanon, where the divide between groups sympathetic to Assad's Alawite-dominated government and those aligned with Syria's Sunni-led opposition has grown increasingly stark.
Hezbollah is the strongest political and military force in Lebanon, and its allies dominate the government. Sakr, a 37-year-old former journalist, is a member of an opposition party headed by former Lebanese prime minister Saad Hariri, a staunch opponent of Hezbollah.
The disclosure of Sakr's ties to the armed opposition groups in Syria was revealed through a series of audio recordings leaked to the Lebanese news media by a confidential source who claimed to be an aide to Sakr.
The recordings appear to show Sakr's close ties with rebel commanders as well as his involvement with the process of weapons procurement and dispersal.
When the recordings were first revealed, Sakr was defiant, saying in an interview with Asharq Al-Awsat newspaper, "I am not ashamed of what I have done and am doing." But in a news conference Thursday, Sakr denied any role in arms smuggling and said that the recordings had been taken out of context and that portions had been fabricated.
Rebel commanders who have had dealings with Sakr say that his support was limited to humanitarian aid. "He was supplying us with humanitarian aid, including food, medication and medical support and helping treat the wounded," said Louay Moqdad, a spokesman for the Free Syrian Army.
While the Lebanese government has sought to remain neutral, the Syrian conflict has divided regional powers, with Saudi Arabia, Qatar and Turkey backing the opposition and Iran supporting the Assad government.
The controversy surrounding Sakr has similarities to the case of Michel Samaha, a former Lebanese information minister accused of planning a bombing campaign in northern Lebanon at Assad's behest. Samaha, seen as an ally of Hezbollah, was arrested in August because of a series of audio clips that were secretly recorded as he allegedly plotted the bomb attack.
A little over two months later, Wissam Hassan, a senior intelligence official who led the Samaha investigation, was assassinated in a car bombing in east Beirut.
As criticism of Sakr mounted this week from political opponents, Lebanese Attorney General Hatem Madi called for an investigation into the recordings.
Still, Sakr's defenders rallied to support him. "There is a huge difference between us and them," said parliamentarian Ammar Houri, also a member of Hariri's party, referring to Hezbollah. "They are intervening with the Syrian conflict militarily on the side of the regime, on the criminal side. We, on the other hand, are intervening on the humanitarian level to support the Syrian people. There's a big difference between the two."
Washington Post