Clinton: No simple solution to Syria crisis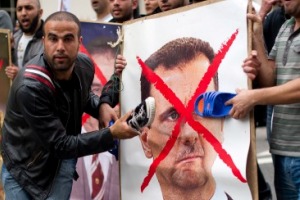 U.S. Secretary of State Hillary Clinton said on Friday nobody should have any illusions about how hard it will be to find a solution to the crisis in Syria, a day after holding talks with Russia and international envoy Lakhdar Brahimi.
Clinton, who met Brahimi and Russian Foreign Minister Sergei Lavrov in Dublin on Thursday, said she and Lavrov committed to supporting a renewed push by Brahimi for a political transition agreed under the Geneva Declaration in June.
"It was an important meeting but just the beginning," Clinton said at a news conference in Northern Ireland, describing the developments on the ground as "very dangerous" for Syria and its neighbors.
"I don't think anyone believes that there was some great breakthrough, no one should have any illusions about how hard this remains but all of us, with any influence, need to be engaged with Brahimi for a concerted, sincere push."
"The United States stands with the Syrian people in insisting that any transition process result in a unified, democratic Syria in which all citizens are represented … A future of this kind cannot possibly include (President) Assad."
Lavrov suggested there was only a slim chance of finding a solution to the crisis after the talks, according to comments published on Friday.
Reuters