Apple hints at reinventing the TV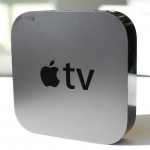 Apple CEO Tim Cook has poured fuel on the rumors that the company has plans to build a TV.
"When I go into my living room and turn on the TV, I feel like I have gone backwards in time by 20 to 30 years," Cook told NBC News anchor Brian Williams in an interview. "It's an area of intense interest. I can't say more than that."
As Apple watchers look toward Apple's next big product breakthrough, much of the speculation has focused on Apple's plans to make its own television set. The company currently sells Apple TV, a little black box for $99 that allows users to access Apple's iTunes store as well as services like Netflix and Hulu on their TVs.
But fans want more: A whole television designed by Apple that reinvents the experience.
In his biography of Steve Jobs released last year, author Walter Isaacson wrote that Jobs said he had "finally cracked" the secret to reinventing TV. In the past year, rumors have persisted that an Apple TV was on the horizon. Indeed, Apple analyst Gene Munster of Piper Jaffray lists an Apple television as one of three big product launches he expects from Apple in 2013.
Beyond the design and functionality, however, there lies the issue of securing the rights to movies and television shows. In recent years, Hollywood studios and TV networks have moved cautiously in striking deals to license video content. Whether Apple can strike a deal to persuade content makers to more broadly license their creations remains to be seen.
LA Times