400 German soldiers will help Turkey with the patriots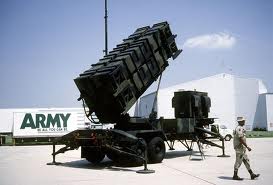 The deployment of Patriot systems along Turkey's border with Syria will probably take place in early 2013, as technical work to determine the number of batteries and sites continues, local Hurriyet Daily News reported Thursday, APA reports quoting Xinhua.
"It's hard to give a precise date for the deployment of the Patriots. But it could take no less than a month if everything goes as planned," Turkish diplomatic sources were quoted as saying.
"These are large systems. They will be brought to Turkey via ships and they will be uploaded to ships in a few weeks. I cannot give you a specific date about the deployment of Patriots, but it will be shorter than most people's expectation," NATO Allied Land Commander Gen. Frederick Ben Hodges was quoted as saying by the semi-official Anatolia news agency.
Also on Thursday, the German cabinet agreed to participate in a NATO mission for sending Patriot missiles and some 400 soldiers to Turkey to help the country cope with potential security threats from Syria.
"Turkey is currently the most-affected partner in the Syria conflict. It is exposed to a potential threat from Syria," the country's foreign and defense ministries said in a joint statement.
In October, several artillery shells from Syria struck a Turkish border town and killed five civilians.
On Tuesday, NATO approved Turkey's request to augment its air defense against a potential cross-border attack from Syria by deploying Patriot missiles along the border. The alliance said Germany, the Netherlands and the United States would contribute the missile batteries, which will come under the command of the Supreme Allied Commander Europe.