Lebanon judge orders investigation of MP Sakr's tapes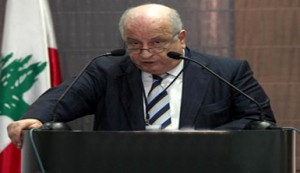 Lebanon General Prosecutor Judge Hatem Madi ordered an investigation into the recordings implicating Lebanese MP Okab Sakr in providing support to Syrian rebels, National News Agency reported on Tuesday.
According to the report, Madi requested the Central Criminal Investigations Department to analyze the information included in the recordings that allegedly implicate the Future bloc MP in providing weapons to Syrian rebels in their effort to overthrow President Bashar al-Assad.
On Monday, Sakr admitted that the Al-Akhbar newspaper transcripts of his conversations with Syrian rebels were true.
In remarks published by As-Sharq al-Awsat newspaper on Monday, Sakr said: "What I am doing in Syria embodies my convictions and it is in the interest of Lebanon."
Al-Akhbar newspaper last week published a series of transcripts revealing Sakr's conversations with Syrian rebels to help arm them in their effort to overthrow the regime of President Bashar al-Assad.
Lebanon's political scene is deeply divided between supporters of the Assad regime, spearheaded by the March 8 group, and its pro-western opponents represent by the March 14 coalition.
More than 41,000 people have been killed since the violence in Syria began in March 2011, according to the Syrian Observatory for Human Rights.
Now