US: Growing fears Syria may use chemical weapons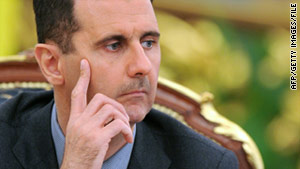 The US says it fears Syria's President Bashar al-Assad may resort to using chemical weapons against his people.
White House spokesman Jay Carney said the US was concerned that such an action might be taken by "an increasingly beleaguered regime".
A Syrian official has insisted it would "never, under any circumstances" use such weapons, "if such weapons exist".
Meanwhile, the United Nations says it was pulling "all non-essential international staff" out of Syria.
As many as 25 out of 100 international staff could leave this week, the UN news agency Irin reports.
All field trips outside the capital are being halted temporarily as staff are at "increased risk" from clashes and indiscriminate shooting by both sides.
'Reprehensible'
Mr Carney told reporters that such was the concern about the possibility of Syria using chemical weapons, Washington was preparing contingency plans.
He did not give details of what those plans would be, but he echoed a similar warning made earlier by US Secretary of State Hillary Clinton.
She had said the use of chemical weapons was a "red line for the United States", adding that "we're certainly planning to take action if that eventuality were to occur.
"Once again we issue a very strong warning to the Assad regime that their behaviour is reprehensible. Their actions against their own people have been tragic," she told a joint news conference with her Czech counterpart in Prague.
They were responding to reports quoting US and European officials as saying that the movement of chemical weapons by the Syrian military has been detected in recent days.
But the claims were rejected by Damascus. A foreign ministry spokesman was quoted by state television as saying: "Syria confirms repeatedly it will never, under any circumstances, use chemical weapons against its own people, if such weapons exist."
BBC