MP Sakr admits helping Syria rebels secure arms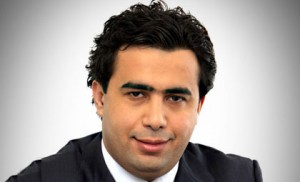 MP Okab Sakr, a key member of the Future Parliamentary bloc confirmed that the Al-Akhbar newspaper transcripts of his conversations with Syrian rebels to provide them with military support to overthrow the Bashar al-Assad regime were true.
In remarks published by As-Sharq al-Awsat newspaper on Monday, Sakr said: "What I am doing in Syria embodies my convictions and it is in the interest of Lebanon."
"I accept personal responsibility for what I am doing."
"[The voice heard in the phone conversations] is my voice, and these are my words. I am not used to denying my own voice or my own words and I am not ashamed of my deeds," he also said.
The MP also addressed the calls for withdrawing his parliamentary immunity, saying that he would abide by any judicial measure taken with regard to his case, adding that he would not "hide behind the parliamentary immunity."
"Are the others who are also involved in fighting in Syria prepared to have their parliamentary immunity lifted , as well as mine, and have us all tried?" he inquired in an implicit reference to pro-Syrian regime Lebanese factions.
Sakr added that he would soon publically reveal the details of the case, and highlighted the role played by Future Movement leader MP Saad Hariri in supporting the Syrian uprising as "nothing more or less than humanitarian, political and media support for the Syrian people."
Meanwhile, Speaker Nabih Berri, when asked to comment on the possibility of taking legal measures to lift Sakr's parliamentary immunity, said in remarks in As-Safir newspaper on Monday that he would study the case "if it was referred to him by the Public Prosecution."
Al-Akhbar newspaper last week published a series of transcripts revealing Sakr's conversations with Syrian rebels to help arm them in their effort to overthrow the regime of President Bashar al-Assad.
Lebanon's political scene is deeply divided between supporters of the Assad regime, spearheaded by the March 8 group, and its pro-western opponents represent by the March 14 coalition.
Now Lebanon