Lebanon Patriarch calls for a new cabinet, electoral law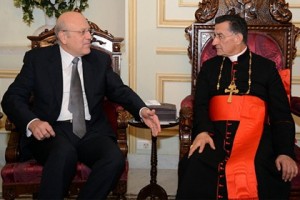 Lebanon's Maronite Patriarch Beshara al-Rai called on Sunday for the formation of a new government and the adoption of a new electoral law for the upcoming 2013 parliamentary elections,  National News Agency reported.
"A new government should be formed along with a new electoral law," Rai said during the Sunday Mass in Bkirki.
Such a law should respect coexistence and the division of shares between Muslims and Christians, Rai said.
Rai also called for "dialogue and national reconciliation" to end the "divisions" among the country's politicians.
He said the new Cabinet should be formed to resolve the country's economic and social problems and hold parliamentary elections on time.
"The Lebanese are suffering from divisions and the paralysis of life, and economic problems," Rai said.
Parliamentary discussion and consultations between the March 8 and March 14 alliances over an agreement for a new electoral were disrupted following the assassination on October 19 of Lebanese International Security intelligence chief Brig. Gen. Wissam al-Hassan.
Hassan's assassination prompted March 14-led opposition to boycott the Cabinet and the parliament and the call for the formation of a neutral salvation government that would supervise the coming parliamentary elections.
This was the patriarch's first mass since his return from Rome where he was officially appointed as Cardinal by Pope Benedict XVI.
The current cabinet of PM Nagib Mikati is dominated by the Iranian and Syrian backed Hezbollah militant group, which along with Syria was accused of being behind Hassan's assassination.
Photo: Prime Minister Najib Mikati said Friday following his meeting with Lebanon's Maronite Patriarch Beshara al-Rai that the 2013 parliamentary polls would be held on time regardless who was the prime minister or whether an agreement is reached over a new electoral law.