Palestinian envoy gets 'state' name plate in UN assembly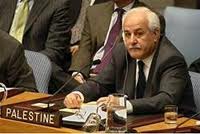 A new "State of Palestine" name plate was put up in the UN General Assembly on Friday for Palestinian envoy Riyad Mansour, who condemned Israel's planned new settlements in the occupied territories.
Israel revealed plans to build 3,000 more settler homes in east Jerusalem and the West Bank after a historic UN vote to recognize Palestine as a "non-member observer state.
Mansour described the Israeli plans as "an immediate provocation."
"More provocations would be testing our resolve," added Mansour, who did not say what actions the Palestinians could take.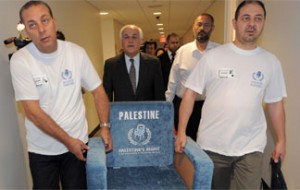 "Our hand is extended in peace, but we need the other side to reciprocate in the same spirit," said Mansour, who was given an ovation as he took his place behind the new name plate after an annual debate on Palestinian rights.
The General Assembly overwhelmingly backed a resolution on Thursday recognizing Palestine as a non-member observer state, a move Palestinian leader Mahmud Abbas said was part of "a last chance" for a negotiated two-state solution.
"The message that we pushed yesterday should be the message that they (Israel) listen to and take it seriously into consideration if they want to move in the direction of peace with us," Mansour said.
Israel and the United States have both criticized the UN vote as an obstacle to efforts to reach an Israeli-Palestinian peace accord.
KT