Syria: Twin car bombs in Damascus kill at least 34 people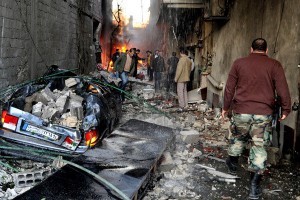 Dozens of people were killed Wednesday morning in four consecutive explosions that rocked a pro-regime suburb of the Syrian capital.
Twin car bombings first struck Jaramana around rush hour near the town's main square. An eyewitness told activists that the first bomb went off near the entrance of a building and as people gathered to help the injured a nearby Mercedes also exploded. Witnesses reported many bodies lying in the street and photos from the scene showed damaged buildings and cars under rubble.
Soon after planted explosives were set off on the nearby Qariyat highway, said Damascus activist Alexia Jade.
The Syrian Arab News Agency reported that the last two explosions happened in Damascus in the Nahda and Qerayyat neighborhoods.
The opposition reported 45 people were killed, mostly civilians, and state media said the death toll was 34. Many more are injured, some in critical condition.
Jaramana is a mostly pro-government town but has also become a safe haven for many refugees fleeing violence in nearby areas. But this was not the first time the town has been attacked.
State media blamed the bombings on "terrorists," the catch-all term the government has used to describe the opposition since the beginning of the uprising last year.
Opposition activists said no rebel group had claimed responsibility for the bombings and they pinned the blame on the government. Ambulances and state media were on the scene almost immediately, they said.
"Checkpoints surround Jaramana from all sides and are manned by the People's Committee, so where did the car bombs enter from?" Jade said. "It is just a message of fear for the residents of Jaramana."
Jaramana's hospital was inundated with victims and many had to be transferred elsewhere.
Schools that were already in session closed for the day and parents rushed to pick up their children, Jade said.
Roads around the town were closed in the wake of the bombings and security forces and members of the pro-regime People's Committee were patrolling throughout the area, activists reported.
"Till this moment indications are that the regime was behind it," Jade said. "And if (a rebel group) claims responsibility I'm going to be angry, because there are civilians lying in the street."
LA Times