Syria rebels downed a regime warplane, captured pilot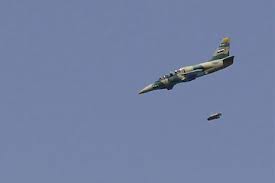 Syrian rebels captured a pilot manning a regime fighter jet downed on Wednesday over Daret Ezza in the northern province of Aleppo, witnesses said.
"Two pilots used parachutes to jump out of the plane after it was hit," a witness told an AFP reporter in the town. "One of them was taken prisoner."
The Syrian Observatory for Human Rights, a Britain-based watchdog, also said that the rebels had captured one of the pilots.
"A Syrian fighter jet pilot was taken prisoner in Daret ez-Za after his plane was downed," said the Observatory, which relies on a network of activists and medics on the ground.
Amateur video shot by activists and posted on YouTube showed clouds of fire and smoke rising from a mass of broken metal parts strewn across a green field.
"This is your airplane, Bashar," an unidentified man said from behind the camera, in reference to Syria's President Bashar al-Assad.
"The [rebel] Free Syrian Army has downed it," added the man.
A second amateur video distributed by the Observatory showed a group of men carrying a uniformed man identified as a pilot.
"We want him alive," one man can be heard saying in the video.
"This is the man who was piloting the plane that bombarded the houses of civilians," said another.
The second pilot's whereabouts was not immediately known.
AFP/NOW