Syria rebels advance, claim takeover of dam, air bases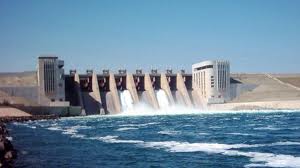 Beirut, Lebanon -Fresh from declaring that they had seized an important military airport and an air defense base just outside Damascus, Syrian rebels Monday said they overran a hydroelectric dam in the north of the country.
It is the latest in a monthlong string of tactical successes that demonstrate the rebels' ability to erode the government's dominance in the face of withering aerial attacks.
Amateur video, which could not be verified, showed what purported to be rebel soldiers ransacking boxes of captured weapons, including hand grenades and rocket- propelled grenades, at the Tishrin Dam near the town of Manbij.
"Here are your spoils, Bashar," a voice can be heard saying, referring to President Bashar Assad. "Here are your weapons, Bashar. God is great," a rebel exclaims as two men are filmed carrying off a trunk of munitions.
Rebel forces had been besieging the dam's defenses on the Euphrates River for days.
The footage seemed to have been recorded in darkness. The British-based Syrian Observatory for Human Rights, which compiles its reports from militants on the ground, said the rebels overran the facility before dawn.
The dam supplies electricity to several parts of Syria, the activists said, and lies on an axis between the northern provinces of Raqa and Aleppo, apparently broadening the rebels' potential supply lines in northern Syria.
Over the past month, rebels have seized or damaged major military bases, making off with armored vehicles, anti-aircraft weapons and other equipment they desperately need to break the stalemate in the grinding conflict, which has taken more than 30,000 lives.
On Monday, the conflict was reported once again to have spilled beyond Syria's border, drawing in Turkish anti-aircraft gunners who were said by the insurgents to have opened fire on a government warplane that appeared to have entered Turkish airspace as it attacked rebel positions in the Syrian town of Atma, just across the Turkish-Syrian border.
Government warplanes also attacked the Bab al-Hawa border crossing at the Turkish border, an area where rebels have enjoyed control for several months.
The Bulletin